As wholesale solar suppliers, chances are most of your online sales actually take place offline due to the complexities involved in a PV solar transaction. You deal with such details as product certifications, project specifications, timeline, delivery instructions, warranty information, return/exchange policy, and taxes - to name a few.
But don't be too quick to dismiss online selling tools for wholesale solar equipment. Buyers use e-commerce marketplaces and B2B exchanges to compare prices and products, review shipping and financing options, and connect with new partners who can help achieve their business goals.
Thanks to these sites, you are able to reach a wider audience of installers, contractors and EPCs beyond your geographic area. They provide opportunities to increase your ROI on marketing dollars spent by exposing you to more leads. Plus, working online allows you to network and engage with contacts.
Q. How do you make best use of your time and resources online to ensure you reach prospective customers?
This article presents five tips for wholesale suppliers to sell solar equipment online and attract your desired target audience.
But first, let's define the difference between e-commerce marketplaces and B2B exchanges.
E-commerce marketplaces vs. B2B exchanges
Although these terms are widely used in internet-speak, they are not interchangeable. The differences between these two platforms affect what types of buyers you attract.
What both types have in common is that they are operated by third parties that list inventory from multiple suppliers. Third parties take responsibility for creating transparency and moderating issues that arise between participants.
Unique to e-commerce marketplaces is their ability to process transactions, which sellers pay for via transaction fees. Plus, the majority of marketplaces are targeted at consumers, meaning any buyer can enter into a transaction. In these open marketplaces, you find sellers listing inventory at discounted retail prices.
In contrast, B2B exchanges cater to specified groups of wholesale buyers and sellers who seek to connect on a secure platform. These solar equipment brokers are routinely engaged in trading assets, goods and/or services. Exchange members acting as traders are likely to switch roles as buyers and sellers frequently throughout the day.
Many B2B exchanges are exclusive, meaning they pre-qualify members. Vetted members are registered business entities, possess necessary licenses and certifications, and come with references.
Successful exchanges emulate financial trading by promoting liquidity and transparency, efficient pricing, product information sharing, and effective buyer-seller matches. Information housed on exchanges including price, availability, quality, quantity, location, buyer/seller contact information and so on, tends to hold greater value than products themselves. Therefore, most exchanges charge access subscriptions or membership dues rather than transaction fees.
Key Differences:

E-Commerce Marketplaces vs. B2B Exchanges

E-Commerce Marketplace

Exclusive

B2B Exchange

Target Audience

Primarily B2C
Vetted B2B
Pricing
Wholesale pricing
3rd Party Handling
Communications
No human interaction
Purchase Value
Lowest price

Market intelligence

(including product, price,

availability, quality,

quantity, location, and

contact information)
Now that you have an idea about how e-commerce marketplaces and B2B exchanges differ, let's take a look at five tips that can help you reach wholesale buyers online.
1. Create a professional digital presence.
An online presence consists of a website, search engine optimization (SEO), inbound links and paid ads. All of these elements work together to promote your brand and attract prospective customers. Here are some key considerations for each.
Website
According to HubSpot "over 80% of [B2B] buyers visit a website before making a purchase." Therefore, it is critical that your online presence begins with a professional website.
Your website should answer the question – How can your business help my business grow? Business prospects are most interested in learning how you can save them time, money and resources.
Don't think of your website as just a pretty marketing brochure. Instead, leverage it as a tool to drive visitors to conversion. You want them to voluntarily give their contact information to you, which is why you should have lead conversion forms and clear call-to-action buttons visible throughout your website.
It's a good idea to have a few different conversion forms available depending on what stage buyers are at in their buying journeys.
If they are interested in learning more about your company but aren't ready to talk to a salesperson, consider creating a free guide on a topic your company has expertise in that visitors can download after entering their contact information into the form. For example, you could write about inventory management and provide an easy-to-follow template for solar installers to track their inventory.
For those who are ready to start conversations with your sales team, create a contact or quote request form. By having built-in forms on your website, you're creating a funnel to generate inbound leads.
SEO
SEO is all about optimizing your digital presence via both on-page and technical tactics. The purpose is to help your web presence rank well in search engines to increase traffic to your website. Think about what you can do that helps your ideal customer find you online.
On-page SEO consists of three parts: content, HTML and site architecture. Content is crucial to B2B marketing because 80% of business decision makers prefer to glean information about a brand from content versus ads. Make sure your content is relevant to your target audience and original.
HTML consists of page titles, headers, meta descriptions, image alt text and structured data. Site architecture elements include internal linking, mobile responsiveness, and site speed. These elements can all be addressed by following this free checklist provided by HubSpot.
Inbound Links
In addition to on-page and technical SEO, you can enhance your online presence by creating inbound links to your website. One of the best ways to do so is via social media.
Every social media post you create allows you to link back to your website again and again. Social media is also an effective way to share your content. With every post, you build brand awareness and give your company an online personality.
Consider infusing a human element into your social media content. Let prospects see the human side of your business. Particularly for B2B marketing, prospects want to know who they would be doing business with. In fact, 75% of buyers and 84% of C-level executives use social media interaction to influence their purchasing decisions.
Paid Ads
You can further boost your search engine results by implementing pay-per-click (PPC) ads via Google and social media platforms. Use these campaigns to advertise everything from your products, services, brand personality, content and special offers.
Make sure you remain focused on your ideal customer when promoting content. The content should be relevant to them. To do so effectively, research categories or keyword phrases that your prospects are searching for online. Use your industry knowledge, ask current customers what they are researching online, and look up what your competitors are promoting.
Here is a free tool from Ubersuggest to test any keyword. The tool gives an overview of monthly search volume as well as SEO difficulty, paid difficulty and the average cost per click (CPC). For example, results for "wholesale solar panels" produce an average of 1,900 searches per month, an SEO difficulty of 44, a paid difficulty of 100, and a CPC of $1.87 (as of 8/3/2020).
2. Join an online B2B exchange.
Perhaps one of the most effective ways to connect with wholesale solar equipment traders is to join an online B2B exchange. One of the solar industry's leading global exchanges is EnergyBin, where PV professionals come together to buy and sell new, used, refurbished, and legacy solar equipment.
Some exchanges are open to anyone. They tend to take a hands-off approach to liability. Others, like EnergyBin, are exclusive to registered solar companies. These companies must meet member qualifications and adhere to a code of conduct.
When you become a member of an exclusive exchange, you can rest easy that each member in the network is pre-qualified. Members work to earn trust from one another as well as hold each other accountable. Members collaborate together to advance solar, share market intelligence and lower soft costs.
3. Research your competitors' online activity.
If you're wondering how you should position your company online to attract new sales, study your primary competitors' activities. Scope out their social media profiles. View what they're posting, who's following them and who's engaging with them.
Sign up for your competitors' email lists. Many solar suppliers send out featured inventory lists to their subscribers, which is like free product information delivered direct to your inbox.
Check out what keywords or content they are promoting via Google Ads and paid social media ads. If they are spending marketing dollars to promote specific products, chances are these products are hot items requested by their customers.
One of the top online resources to track what equipment competitors are listing, including quantity, quality, price, etc. is a B2B exchange. On EnergyBin, for example, you can easily compare multiple sellers' listings for a single part number or similar parts.
4. Be transparent in what you list for sale.
There's nothing more frustrating for a buyer than learning that a listed product for sale is not available, does not match the advertised condition or varies in price from what is quoted. Strive for honesty and accuracy when advertising your products online.
When listing your products, whether in an open market or in an exclusive exchange, include the details/specs, accurate descriptions of the condition, quality, quantity, price, and product certifications.
Note that product certifications are necessary when listing on a global exchange, like EnergyBin, because you don't want to mislead another member into thinking that a product is rated for the United States, for example, when it is not.
At the same time, you wouldn't want to dismiss a member located in the U.S. for said product because their actual solar project may be located in another country. We have found this case to be common among EnergyBin members, who have main offices in the U.S. but are procuring equipment for projects around the world.
The risk you run by withholding information or being elusive about a product for sale is that you can quickly lose a buyer's trust. In the solar industry, relationships bear weight. If it gets around that your company is not trustworthy, it could be detrimental to your reputation.
5. Follow up with your buyers online and offline.
When wholesale buyers shop online for solar equipment, it rarely means they're entering a credit card number on a website checkout form. That doesn't make sense considering the complexities involved in a PV solar transaction, such as project specifications, timeline, delivery instructions, warranty information, return/exchange policy, taxes, product certifications, etc.
Rather, buyers use B2B online shopping tools to compare prices and products, review shipping and financing options, and connect with new partners who can help achieve their business goals.
When they're ready to buy, they'll most likely want to talk to you to verify you're a reputable seller. Reach out to your prospective customers by phone. A phone conversation gives buyers the opportunity to ask additional questions that they may not feel comfortable discussing online.
You may also want to take the extra step to meet in person, either at their place of business or at a trade show. Face-to-face marketing creates trust, promotes a personal connection and strengthens business relationships.
After you reach out by phone, send a follow-up email. Whether you talk to the buyer or get their voicemail, a follow-up email is one extra touch-point to show you really care about helping them with their equipment needs.
You may also want to consider connecting to them on LinkedIn and sending a brief message noting your willingness and availability to help.
In addition to LinkedIn, a B2B exchange, like EnergyBin, provides a member-to-member messaging tool that you can use to connect. Such tools are useful to effectively network with solar professionals that can lead to long-term relationships.
Boost your online sales
Now is the time to expand your business online. Selling solar equipment online exposes your company to prospective customers beyond your geographic location. Connecting to PV professionals in a B2B exchange puts your company offerings front and center. More so, a B2B exchange provides you with market intelligence critical to wholesale solar equipment for sale.
The tips in this article should be deployed to attract your ideal customers to your website. As you work online, you may come to realize that you're saving marketing resources normally spent on traditional advertising. Plus, you will discover many more touch-points to connect with buyers that span beyond phone calls and emails.
All in all, use online selling tools to amplify your company sales efforts, grow your network and build your credibility as a reputable seller.
You May Also Like: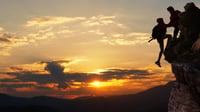 How to Earn Trust When Buying & Selling Solar Equipment Online