Ask any solar professional to describe the industry, and you'll hear it's a relationship-oriented business. When it comes to building and maintaining relationships, attending solar events is worth your time and resources. In fact, face-to-face communication at solar events is considered a best practice of solar equipment brokers and companies alike.
Exhibiting in particular puts your brand and your face in front of a target audience. Are you ready to get the greatest return on your investment? Consider the following tips to maximize your face-to-face marketing at solar events.
But first, let's take a moment to define face-to-face marketing and understand why it's important for a B2B campaign.
What is face-to-face marketing, and why is it important?
A 20-year career in business-to-business sales & marketing across several different industries, including fitness, publishing, and online B2B networking platforms, has taught me one undisputable lesson:
Face-to-face marketing is the key component to any successful B2B campaign.
Generally, face-to-face marketing is any opportunity that allows buyer & seller to see each other in person; any activity that generates a means for vendor & prospect to shake hands, for supplier and customer to have a live, real-time conversation.
As we all know, between emails, conference calls, and exchanging voicemails, actual human connection to the people we are working with is increasingly rare. When we do connect in person with our customers, it's a powerful encounter! It creates trust, promotes a personal connection and strengthens business relationships.
I've especially witnessed how important face-to-face marketing is for solar equipment brokers because of the unusual nature of their work. Brokers are experts at buying and selling equipment outside of the traditional supply chain. They tend to connect with other buyers and sellers across borders rather than confining their work to a specific geographic region.
When brokers invest their time and resources in face-to-face marketing activities, like attending solar shows, they are giving their prospects and customers the opportunity to get to know them in person. In turn, their credibility increases.
"FACE TO FACE MARKETING WILL REMAIN AS THE PRIMARY MARKETING MODEL FOR MOST BUSINESSES FOR YEARS TO COME."

-Anurag Madaan, Co-founder & CEO at Boothconstructions.com
Solar events are essential for B2B marketing
Solar events, like trade shows, are an integral piece of any B2B marketing puzzle, providing numerous ways to engage face-to-face, especially when your company has booth space.
Start-ups looking to launch themselves into the industry, smaller companies who need efficient and effective ways to reach a larger audience, and established brands with a goal of gaining new leads while solidifying current partnerships, can all find success at the right solar event.
EnergyBin launched at Solar Power International in 2016. We had a 20x20 booth and opened shop with the announcement of our U.S. Department of Energy SunShot Initiative Award.
🎁Happy 3-year anniversary to us!🎁
We gained invaluable insight, met industry leaders, introduced our company to hundreds of other companies, networked with prospects and left with leads who are clients today. That level of productivity, done in just three days, can only happen at face-to-face events.
Kendall Reed of Map Dynamics wrote a blog on reasons to include trade shows in your marketing plan. Reed mentions, "the personal interaction offered at trade shows allows you to establish a direct, more effective relationship with your client." He goes onto say, "This relationship is valuable in the future as you maintain a connection, thrive off of their business and network through other clients."
5 tips to maximize your solar event investment
Once you know exhibiting is valuable for your company's B2B marketing plan, it's time to take on the fun AND rewarding challenge of maximizing your solar event investment.
With two decades of exhibiting under my belt, I recommend these top 5 tips to gain positive results from events. These tips are especially meant for those of you working in the solar industry who are new to the world of exhibition.
1. Train your team on the logistics of trade show and event marketing.
When adding event exhibits to your annual marketing agenda, you'll want to educate the person within your organization who will be responsible for executing all the ins & outs of exhibiting.
A tremendous resource for doing just that is EXHIBITOR, a company dedicated to best practices in trade shows and events. In fact, EXHIBITOR helps you right off the bat by providing a glossary of all the funky exhibiting terms like 'advance receiving' and 'table top display'.
EXHIBITOR hosts an annual event, a large trade show (of course!). EXHIBITORLIVE takes place in Las Vegas every spring. It's meant for trade show managers and those responsible for trade show and corporate event logistics. Yes, it's a trade show for trade shows.
In addition, EXHIBITOR offers certification in trade show management via their CTSM program (Certified Trade Show Manager). Per their website, for those new to exhibiting, "CTSM education is designed to provide you with a solid foundation of knowledge, giving those tasked with on-the-job-learning the tools, education and support needed to excel."
A large component of trade show education is deciding what your actual exhibit will look like. The task of designing a booth is a big one and can be daunting to say the least. It's important that all aspects are well-thought out and align with your company's branding, strategy and overall marketing plan.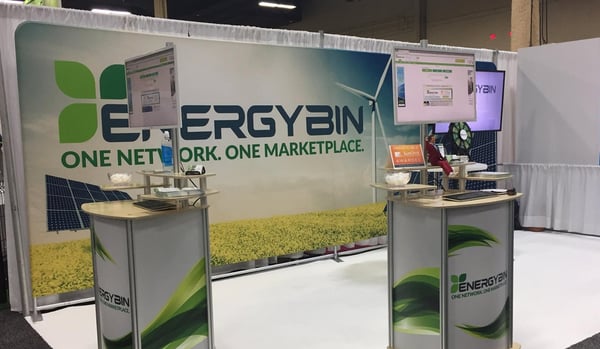 When your design is done and you're ready to buy your exhibit components, check out Find It Marketplace, a buyer's guide to trade show products and services. Here you'll find everything you need to put together your best booth!
Now, you're at the point where you need to put pen to paper. Set your goals, create your budget, and prepare RFPs. If you need help, EXHIBITOR provides handy dandy forms and templates to help with budgeting, show selection, ROI, and RFPs – just to name a few.
2. Exhibit at shows that make the most sense for your business.
Choosing what event(s) to exhibit at is the trickiest part of the process, in my opinion, because typically, and especially in solar, the options are limitless. A quick google search brings up 100+ solar-related trade shows and conferences in 2019.
There are specific factors to consider when making this overwhelming decision. Address four basic questions for each event you might attend:
Who are the attendees?
What are the attendees' availability to be reached at the event?
What is the cost?
Where is the show located?
Who are the attendees?
A show prospectus should provide this information. You're looking for details like:
Company category (manufacturer, distributor, installer, etc.)
Job titles, including decision-making ability
WHY are they attending this particular show? (Buyers of panels for example)
Armed with attendee demographics, you're able to determine the likelihood of those attendees being YOUR target clients.
What are the attendees' availability to be reached at the event?
With respect to this question, it's up to you to keenly understand the agenda per show. Think about it, even if you determined your ideal clients will be attending, you still need to know how you will engage with them. That's really the point!
Consider these key agenda points:
Exhibit Hours
Do they coincide with sessions - You want to know this to help determine booth traffic. Your exhibit won't be as busy when attendees are in meetings or presentations. This is especially important at smaller, regional shows that are more conference-focused and/or events that are primarily table top booths. Again, the key is intentional engagement over the entire few days of the show.
Networking Venues
Many shows offer evening receptions and/or dinners that provide a built-in networking atmosphere. Attend every single one. When an additional fee is required, pay for a team member or two to attend. If just one connection you make turns into a business deal down the road, the entrance fee becomes nominal.
At the event, you are constantly surrounded with opportunities to connect with other attendees. Hotel restaurants, lobby bars and elevators are just a few places to make connections while attending trade shows.
Sponsorship Opportunities
You may also want to consider sponsorship opportunities that encourage face-to-face conversations. For example, EnergyBin sponsored a breakfast panel at a Greentech Media event in 2017, which allowed us to speak to attendees who registered for the session. We encouraged session attendees to stop by our booth and received a list of all who registered when the event was over.
Remember to ask yourself, how much engagement can we get out of this?
How many new and existing clients are we going to be able to meet?
How many times and in how many ways, can we share our story at this show?
What is the cost?
And of course, the question we wish we didn't have to ask: How much is this show going to cost? Trade shows are cost-effective because you get to introduce your company to potentially hundreds of prospects in just a couple of days.
But they also come with an expensive price tag. How's that for contradiction? The booth space, booth build-out, on-site campaigns and travel expenses can add up quickly. It is critical to gauge your ROI for goal-setting and to determine the cost of the show.
As an example, I have calculated the return on gaining a new EnergyBin member. With that information, I can look at how many memberships we must close to consider an event profitable and/or how many new prospects we have to acquire.
Where is the show located?
One other aspect to consider is the location of the show. An international event will likely take a big chunk out of your budget due to travel expenses, shipping and staff time out of the office. While exhibiting domestically may give your sales team an opportunity to visit clients in the area before or after the show for additional face-to-face opportunities.
At EnergyBin, we created a full-time position to meet with prospects and customers. Our Senior Business Development manager, Leo Sochanek, schedules one-on-one meetings in locations where he attends solar events to meet with clients at their offices, warehouses and job sites.
3. Set clear, measurable goals for every show.
A mantra we use at EnergyBin that goes along with this tip is: "You can't manage what you can't measure."
Know before you go to a show how many leads and/or deals you need to come home with from the booth, networking events and other engagement opportunities. As discussed earlier, your ROI is a critical driving measure in any marketing campaign. And frankly, measuring the very real, long-term impact of face-to-face interaction is difficult at best.
Therefore, determining your metrics for measurement ahead of time is necessary to define your trade show success.
How will you know if you've been successful?
How will you measure your ROI?
How will you know if you should attend the show again next year?
Establish goals and expectations ahead of time, so you can manage your activity and track your progress while at the show. Set goals for the number of qualified leads, deals and booth activity. At EnergyBin, we use the number of product demonstrations where we pre-qualify leads as a metric.
A Word of Advice:

Handing out freebies to everyone who walks by, or leaving them out for people to take, is commonplace at shows. But it's something we, as a rule, don't do because it's expensive and doesn't lead to a measurable outcome that we can track.
4. At the show, talk to as many people as you can.
At the show, your challenge is to get attendees to stop and talk to you. Many attendees will intentionally walk by booths they don't recognize or aren't interested in. But it is essential to engage prospects in your booth to reap results. Get people to stop and then find a way to tell your unique story.
The EnergyBin team has taken many fun approaches to this challenge. One year, we had a likeness of Ron Burgandy in our booth. Our team member, Bill, looks and sounds like Ron. He was charged with inviting people into our booth space, and he was great at it. To this day, people ask us, "Where's Ron?"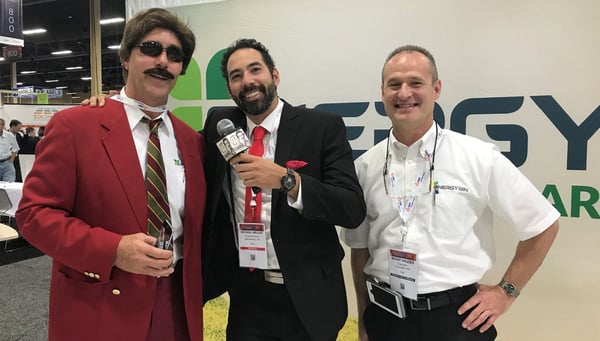 Walk any show floor and you'll see all kinds of ways companies are enticing people to come into their exhibits, from massage chairs to magic tricks to give-aways to – my favorite - free food & drinks. Be careful that your tactic isn't just about throwing another business card in the fishbowl.
Rather, focus on triggering a conversation with a person who could be your next customer. Any business card you take MUST be accompanied with a dialogue. Otherwise, your efforts to maximize your show investment will not be realized.
A welcoming booth team is also imperative. In most cases, I'd guess these people to be your best sales people. Stand up as much as possible and smile. Step out into the aisles to chat with those walking by, extend your hand, say hello, ENGAGE.
Put your phones and computers away. Exhibiting is the time for face-to-face - NOT virtual - connection. Keep your food/drink and personal distractions out of the booth or hidden. Work the passers-by or they will pass you by.
The priority at the EnergyBin booth is to have conversations! We learn about what is important to our prospects and customers. We start discussions to understand their challenges and needs, and also what is working for them.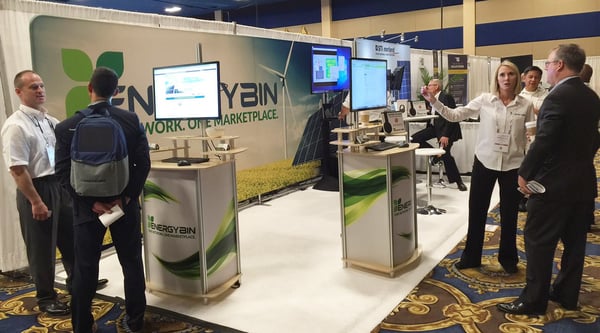 We particularly want to know about their process for buying and selling equipment, and how they feel about an alternative option. We demonstrate our online platform within the context of these conversations. We have multiple computer kiosks positioned outward from our booth, so attendees can see the network LIVE.
With clear engagement expectations for the show, we're able to stay focused on the task at hand and bring home qualified leads.
5. Have a follow-up plan ready to go and execute it.
Don't wait to come up with a lead follow-up plan until after the show. The plan should be ready to go before you leave. That way, you can immediately execute when you return.
If you haven't thought about show follow-up in the past, you're not alone. According to EXHIBITOR, 70% of business leaders do not have a formalized plan or process for following up with trade show leads.
As excited as your sales team might be to get back to the office and follow-up with everyone they met, it's easy to get distracted with other office tasks. A few days go by, maybe a few weeks, and before you know it, you miss the opportunity to follow-up.
To avoid this pitfall, plan out your follow-up steps well in advance. Here's a simple process to get you started.
Compose and schedule a thank-you email.
Draft a thank-you email ahead of time. Use personalization tokens, like [first name] or [company name] that can be auto-filled once you import your lead list. Schedule time to complete and send the email first-thing upon returning to your office.
Manage your lead list at the show.
Every chance you get during the show – in the evenings, during down-times, in the airport – enter your leads into a spreadsheet or your CRM database. Tag your leads with the show name for a way to track where they came from. Give each lead a rating, so you can easily prioritize who to call first. Entering leads throughout the show saves time back in the office and speeds up your ability to reach out to them after the show.
Hand-write thank-you cards.
If you want to make a big impression on those you had great conversations with at the show, send hand-written thank-you cards in the mail. Sure, this might sound silly since we live in a digital world. But it is one of the best ways to communicate your genuine desire to build a meaningful relationship with the other person. Bring a stack of thank-you cards, envelopes and stamps with you and write them out while you travel home.
Set aside time on your calendar to do post-show work.
Schedule out, hour by hour, your return days to include your post-show work. Within your first hour back at your desk, send your thank-you email and start reaching out to your top leads. At EnergyBin, we call the top leads list our 'hot list', which includes company and contact details, membership level discussed and the action item to be taken, such as send a proposal, answer a specific question, etc.
WARNING:

The longer you wait to reconnect with the people you met at the show, the harder it will be to reconnect at all.
See you on the show floor
To summarize, solar events provide the opportunity to engage in meaningful, face-to-face conversations with prospects and customers. Engagement at events creates trust, promotes a personal connection and strengthens business relationships.
One of the most productive ways to engage at an event, particularly a trade show, is to exhibit. The tips shared in this article are meant to help you maximize your event investment.
Bonus Tip:

SMILE. At everyone.

"Your smile will give you a positive countenance that will make people feel comfortable around you." -- Les Brown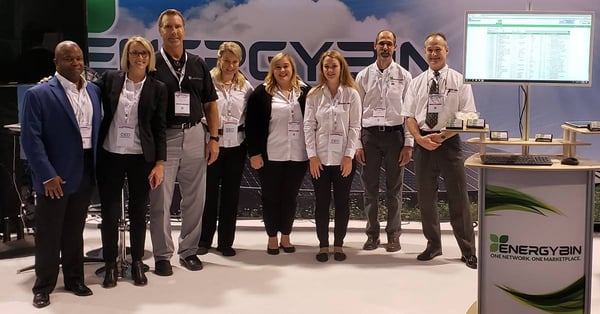 If you're looking for more advice or have questions about exhibiting, send me an email or connect with me on LinkedIn. Better yet, let's meet up at a show!
You May Also Like: