Today's digital world makes it convenient to shop online for just about anything. Price comparisons, product offerings and shipping options give buyers the advantage to make informed, price-conscious purchases.
With e-commerce marketplaces and B2B exchanges, online shopping options have expanded to include wholesale solar PV equipment. Installers, contractors and EPCs gain buying power thanks to the transparency marketplaces and exchanges provide. Distributors and suppliers benefit from reaching a wider audience of buyers beyond their geographic areas.
This article provides five tips for wholesale buyers to shop online for solar equipment. Although online shopping won't entirely replace your relationships with primary vendors, it will present greater opportunities to reduce total system costs.
1. Consider alternative hardware options to save money.
Solar module wholesale pricing has, for the most part, stabilized over the last few years. Global module prices average $0.22-0.26/W, while U.S. prices range from $0.31-0.44/W depending on the type of panel. The primary difference between global and U.S. prices is due to tariffs.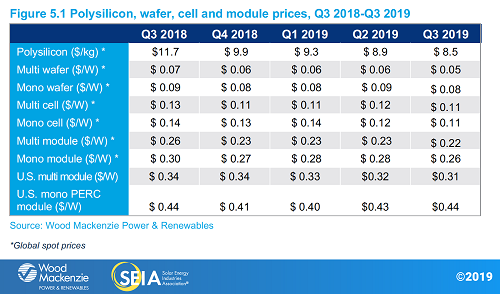 Margins for inverters, structural hardware and electrical BOS have also narrowed. With tightening margins, it becomes more challenging to save money on just the hardware price per watt. However, these three options may help you bring costs down.
Lower wattage modules
One obvious way to save money on hardware is buying panels on the lower end of the price range. Consider purchasing a lower wattage option. If a lower wattage panel works for your project, it may be a better route to go.
For example, we often see Tier 1 brands between 340-360W ranging $0.32-0.35/W on EnergyBin. Whereas, any module 400W or more is usually priced $0.43-0.44/W. The cost savings of going with a lower wattage panel may prove feasible, especially if there's not much difference in direct labor cost.
Surplus Stock
Another way to save is to watch for surplus deals and volume discounts. Surplus modules are new with warranty equipment released by manufacturers to authorized suppliers to sell at discounted rates. Manufacturers allow surplus sales to make room for new technology capacity.
Surplus suppliers tend to connect to buyers on exchanges, such as EnergyBin, to offer these special deals. Some require buyers purchase a minimum quantity. Most will drop-ship to your designated project location. This option may be worthwhile if you have extra cash on-hand, available storage space and a near-term opportunity to either install or resell the hardware to another buyer.
Excess Stock
A third way to save on hardware costs is to look for excess deals. This equipment may be left over from projects. Sometimes it comes from cancelled or delayed projects. Oftentimes, it is unopened from the original packaging. Anything from inverters and microinverters to racking to mounting and wiring can be resold.
Usually, a developer, installer or solar equipment broker acts as the seller for these components. Because they are eager to sell in order to recoup costs, they tend to be open to negotiating price. You can find these deals on trading platforms like EnergyBin, where industry professionals from across the supply chain connect to buy and sell wholesale solar equipment.
2. Save money on more than just hardware costs.
The price per watt of equipment is only part of the total cost to install. Turnkey installations include costs for modules, inverters, electrical and structural BOS, design, engineering, permitting, inspection and interconnection, direct labor, supply chain, overhead and margin.
Average turnkey installed costs in the U.S. are $2.83/Wdc for residential and $1.36/Wdc for non-residential. Soft costs, which are those other than hardware, still amount to 64% of the total installed cost for residential projects and 37% for non-residential.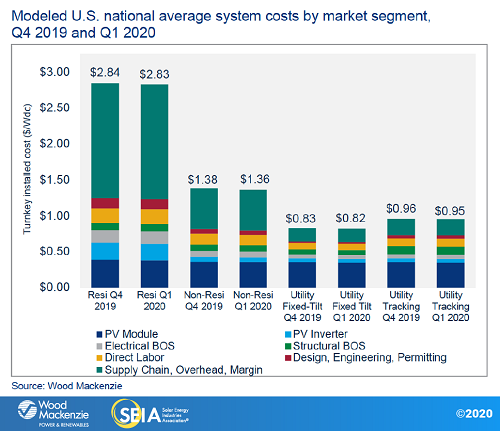 An opportunity to save money exists in reducing soft costs. Of the major soft cost line items – customer acquisition, installation labor, loan fees, installer margins, supply chain overhead, and other business process costs – there are ways to cut costs when procuring solar equipment. Consider these three suggestions.
Solar equipment broker
Work with a broker to save money and resolve specific supply chain issues. Brokers realize cost savings in the range of 60-70% below MSRP due to their abilities to find optimal pricing in their global networks and negotiate ideal contractual terms. Some of these cost savings may be passed onto you. Whether you are in the market for a single part or a full system, a broker will seek to quote a competitive price (including logistics, financing, etc.) regardless of the quantity or rarity of the item.
Payment terms
If you're working with a broker, they will be your negotiating voice to ensure you get optimal terms. Some brokers even offer financing options in-house at rates lower than average distributor rates. Ask about available payment options. You can save money by either securing a lower rate for a line of credit or by avoiding credit altogether on a zero-interest payment plan.
Freight broker
Like an equipment broker, a freight broker will handle all logistics details. If you are working with an equipment broker, chances are they will automatically sub-contract with a freight broker. You can also choose to work directly with a freight broker. Just like equipment brokers, freight brokers calculate the total price you incur when you buy solar equipment, not just the list price. Because of their extensive networks, freight brokers tend to save customers anywhere from 20-70%.
In addition to money, you save time when working with brokers. It can be tedious to hunt for the best deals, negotiate the sale, coordinate details and track the shipment. All of these tasks can be delegated to a broker. Your freed time can be reallocated to other priorities within your business.
3. Only buy from a secure website.
When shopping online, verify that you are using a secure e-commerce marketplace or exchange. There are a plethora of online B2B and B2C marketplaces. Even Amazon and eBay sell PV solar components.
At the very least, make sure the website is secure. First, confirm that the URL address reads 'https'. Second, click on the lock icon to the left of the URL address to determine if the security certificate is valid.
Take security one big step further by joining an online B2B exchange that guarantees a secure trading platform comprised of vetted members. Because the internet makes it possible for anyone anywhere in the world to list equipment for sale, it can be difficult to verify if a seller is who they say they are and whether they'll follow through.
When you become a member of an exchange, like EnergyBin, you can rest easy that each member in the network is pre-qualified. Members in reputable online business communities work to earn trust from one another as well as hold each other accountable. Members collaborate together to advance solar, share market intelligence and lower soft costs.
4. Get quotes from multiple sellers.
The internet makes it easy to compare prices. Many online B2B marketplaces and exchanges require price transparency to level the playing field among contractors, regardless of what quantities you purchase.
Just like we do for any other major purchase – a car or a house, for example – we are conditioned to cross-check pricing. With the dawn of the secondary solar market, customers can access component pricing, supply & demand, logistics and financing options online.
Installers, EPCs and solar brokers looking for wholesale deals can request quotes from multiple sellers by joining online exchanges or partnering with a solar equipment broker. For example, EnergyBin members who send out RFQs for their material lists receive an average of 5-10 quotes within one business day.
Even if you have an established relationship with your primary distributor, it doesn't hurt to request quotes from other sellers. Requesting quotes on a regular basis helps you keep tabs on price trends in the market. Plus, you may need to use a different supplier if your primary vendor is back-logged, and your project is time-sensitive.
5. Do business with a reputable seller.
Reputable online sellers offer complete and transparent company information. This includes phone numbers, email addresses, websites, physical business addresses, logos, contact names, hours of operation and credentials. The seller's online presence should be your first indicator that they are a professional company.
In addition to reviewing their website, pick up the phone and call them. You most likely have a vetting process for new vendors that is unique to your company. The best way to determine if they meet your requirements is to talk to them.
When considering new vendors to work with, turn to online business communities that pre-qualify their members. Exclusive networks help to open the door for new business by establishing an initial level of trust among members.
At EnergyBin, for example, every applicant is required to provide three business references. We verify business registration and license status. Further, every new member must agree to our code of conduct, which strictly prohibits misrepresentation and notes a zero-tolerance policy for fraud.
Even if you're not in the market to buy today, it's wise to be on the lookout for prospective partners and new opportunities. Network with solar equipment brokers and suppliers to introduce yourself and your business. You may be pleasantly surprised to learn how they can help grow your company.
'Shop' online
Shopping online for wholesale solar equipment doesn't mean you're entering a credit card number on a website checkout form. That doesn't make sense considering the complexities involved in a PV solar transaction, such as project specifications, timeline, delivery instructions, warranty information, return/exchange policy, etc.
Rather, use B2B online shopping tools to compare prices and products. Review shipping and financing options. And connect with new partners who can help achieve your business goals.
When you're ready to buy, you'll most likely want to talk to the seller to qualify them as a vendor. Some online exchanges provide pre-qualification standards that all applicants must meet, which make exchanges reliable places to find reputable sellers.
All in all, shop online to gain transparency and discover ways to reduce costs to remain competitive in today's solar industry.
You May Also Like: