About the report
The purpose of this report is to provide a sample of the market intelligence available via PV hardware trade activity on the EnergyBin exchange platform. Our goal is to contribute data to the solar industry that can be used to help make informed decisions about equipment trade.
This report analyzes data based on the following activities:
Common reasons for buying and selling
Product categories listed for sale
Requests to buy products
Major brands listed by sellers and requested by buyers
Module availability
Module pricing
The report timeline represents site activity from the first half of the year (H1 2023). It compares findings from EnergyBin's annual PV Module Price Index Report for c-Si module pricing and availability.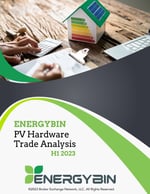 Download the PDF version of the PV Hardware Trade Analysis.
Key Findings
1. In the first half of 2023, the total supply of PV modules listed for sale on the EnergyBin trading exchange increased by 176 percent over H1 2022 (from 648,917 modules to 1,791,285).
2. Pricing across all module classes (excluding Used) has largely decreased since Q4 2022 (All Black down 25 percent; Bifacial down 10 percent; High Efficiency down 17 percent; Mainstream down 18 percent; Low Cost down 30 percent). However, U.S. prices remain higher than global averages.
3. At the close of the second quarter, U.S. prices for All Black and High Efficiency modules were listing as low as $0.27 per watt on EnergyBin.
4. Non-U.S. prices for PV modules on EnergyBin are tracking with global averages at $0.200-0.222 per watt.
5. Since January 2022, EnergyBin membership has grown by 65 percent and is representative of the solar supply chain, including secondary market companies that specialize in reuse, repair, resale, remanufacturing, and recycling.
6. Modules and inverters comprised the vast majority of Want-to-Buy Broadcasts (WTB) (79 percent) and Want-to-Sell Broadcasts (WTS) (74 percent).
7. Energy Storage System (ESS) units totaled 6 percent of overall WTS Broadcasts. Listings included both new and used residential and commercial units.
8. Over half of the WTB Broadcasts were posted for the purpose of obtaining price quotes. Another 29 percent were posted for the purpose of locating replacement parts.
9. The most common module brands that appeared in WTS and WTB posts were SunPower, Canadian Solar, Jinko, QCells, LG, and Trina. The most common inverter brands were SMA, SolarEdge, Fronius, and Enphase.
10. Over 95 percent of buyers in need of replacement parts were open to any condition and warranty status.
About EnergyBin
EnergyBin is a global exchange for PV professionals to connect, access market intelligence, and buy & sell wholesale solar equipment.
The PV professionals who make up EnergyBin's membership represent the industry's downstream supply chain from manufacturers to lifecycle solutions providers (resellers, repair, remanufacturers, recyclers, etc.). Members oversee projects in the residential, commercial, agricultural, industrial, and small-scale utility markets.
Of the nearly 1,000 members (up 65 percent since January 2022), the largest business category is installers and contractors (37 percent) followed by distributors and suppliers (20 percent). Additionally, 6 percent are manufacturers, 11 percent are EPCs, 10 percent are brokers, 4 percent are operations & maintenance technicians, 5 percent are developers and utilities, including independent power providers, and 7 percent are specialized service providers (recyclers, logistics, finance, insurance, 3rd party warranty providers, software companies, etc.).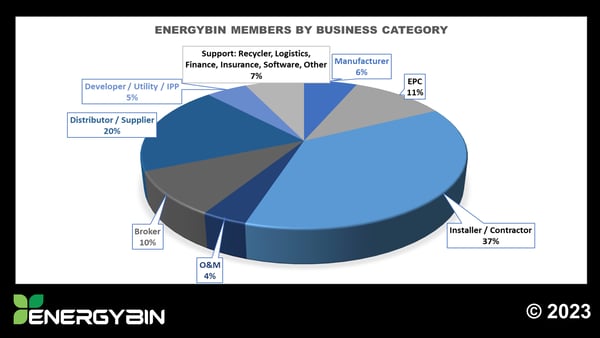 EnergyBin: An exchange, not a marketplace
Although 'exchange' and 'e-commerce marketplace' are terms widely used in today's online business realm, they're not interchangeable. Both types are operated by third parties that host inventory listings from multiple sellers. Third parties take responsibility for creating transparency and moderating conflicts that arise between buyers and sellers.
Unique to e-commerce marketplaces is their ability to process transactions, which sellers pay for via transaction fees. Plus, most marketplaces are targeted at end users, or consumers, meaning any buyer can enter into a transaction. Typically, sellers list inventory at retail prices.
In contrast, B2B exchanges, like EnergyBin, cater to defined groups of wholesale buyers and sellers who seek to connect on secure platforms. Exchange members acting as traders are likely to switch roles as buyers and sellers frequently throughout the day, as they represent their customers' needs.
Due to their nature, many exchanges are exclusive, meaning they pre-qualify members. Vetted members on EnergyBin are registered business entities, possess necessary licenses and certifications, and come with references.
Furthermore, EnergyBin emulates financial trading by promoting liquidity and transparency, efficient pricing, product information sharing, and effective buyer-seller matches. Information housed on the exchange including price, availability, quantity, quality, location, buyer/seller contact information, and so on, tends to hold greater value than the products themselves.
Therefore, EnergyBin offers a powerhouse of market intelligence as well as an alternative solution to buy and sell PV hardware.
Common reasons to buy and sell on EnergyBin
PV hardware traded on EnergyBin is considered to be secondary market goods. The secondary market should not be thought of as a 'secondhand' market; although, some goods traded may have been previously installed in a solar array. Rather, the secondary market consists of both new and used equipment. It brings together buyers and sellers to trade commodities that have previously been issued or introduced into the primary market to offer an alternative channel for the following scenarios:
Remarketed products that primary buyers aren't purchasing, including clearance, close-outs, surplus, and miscellaneous one-offs
Asset liquidations from company acquisitions and bankruptcies
Leftover products (new with warranty, yet never installed) from bulk purchases and project installations
Products for resale (new with warranty, yet never installed) resulting from project cancellations, project delays, and downsized projects
Products for resale that are used, refurbished, or remanufactured and have no manufacturer warranty, but possibly have an assigned 3rd party warranty and/or service warranty.
Sellers
Wholesale sellers on EnergyBin primarily seek to connect with pre-qualified buyers. Many desire to form lasting relationships with buyers who need large-volume quantities. They also come to access information on competitors' pricing and product availability. Some aim to introduce products to new markets. Sellers tend to take on one of the following business models.
Merchant or Stocking Wholesaler
Merchant wholesalers take title of the inventory. They may have multiple warehouses or one central storage facility. They stock many SKUs and brands.
Distributor
Distributors are like merchant wholesalers except for one major difference. They choose to only represent a select number of brands. Distributors prefer to stock top brand names from manufacturers who have a stable track record and established bankability.
Agent Wholesaler
Agent wholesalers don't take ownership of the inventory but rather represent manufacturers and other sellers. They facilitate transactions, including taking orders, negotiating contracts, scheduling delivery, and collecting payment.
Reseller
A wholesale reseller is unique in the sense that they don't always follow a traditional vertical supply chain. Rather, they tend to acquire goods from a variety of supplier relationships like manufacturers, other wholesalers, liquidators, auction houses, and even developers, EPCs and contractors with excess and second-hand material. They may work with solar equipment brokers to buy and sell goods as well.
Additionally, sellers join EnergyBin to promote their value-added services. Some provide storage space to contractors and will drop ship equipment to project worksites. Some offer lines of credit. And some buy back excess and used equipment if the material has resale value. Several suppliers are dedicated to making wholesale buying possible and accessible to all kinds of installers and resellers, regardless of their size and capacity.
Buyers
Wholesale buyers on EnergyBin come looking for an alternative sourcing solution. They seek to efficiently request price quotes from multiple vetted sellers. Many want access to bulk order discounts. Several need to locate hardware that their primary vendors either don't carry or don't have in stock. Others search EnergyBin for replacement parts and repair services. Some want to connect to recycling partners. Buyers who act as resellers to consumers aim to buy low on EnergyBin.
Buyers = Sellers
As you review the report findings, don't presume that a member of EnergyBin is only a buyer or a seller. The EnergyBin platform exists to support wholesale solar equipment brokering. This means that you can buy and sell based on your customers' needs, which often change from one day to the next.
For example, a supplier who joins EnergyBin with the intention to sell may also take on a buying role for a customer in need of replacement modules or inverters that the supplier no longer stocks.
Or, an installer who joins EnergyBin to primarily buy equipment at reduced pricing may have leftover equipment from a project that they then list for resale on the exchange. Furthermore, an installer may have a customer with an existing solar array who decides to upgrade their technology. The installer handles the decommissioning, determines that the used modules have resale value, and remarkets them on EnergyBin.
These scenarios are just a few opportunities that we observe EnergyBin members partaking of on the exchange.
Product categories for sale
The report analyzed a sample of 500 Want-to-Sell (WTS) Broadcasts posted to the EnergyBin platform to determine product category breakdown. Modules represented 56 percent of the total PV hardware for sale followed by inverters at 18 percent and electrical balance-of-system (BOS) components at 15 percent.
Electrical BOS components include optimizers, rapid shutdown devices, cables, wiring, switches, gateways, adaptors, connectors, transformers, monitoring devices, and communications devices. Structural BOS comprises all hardware components related to racking and tracking. Miscellaneous materials for sale on EnergyBin ranged from drones to a mobile solar power wagon to a solar hexagon flower unit.
As energy storage gains traction in the industry, sellers are beginning to list new and lightly used ESS units for sale on EnergyBin. Most of the listings in the sample were for residential storage units. However, some commercial-grade units were listed as well. Brands include Tesla, QCells, LG Chem, Generac, Enphase, Enersys, BYD, and Simpliphi. Quantities per listing ranged from 1 to 6,400 units. The variety and quantity of ESS products for sale on EnergyBin will continue to grow with the residential storage market. Wood Mackenzie expects residential capacity to grow by 88 percent in 2023 and increase fourfold by 2027.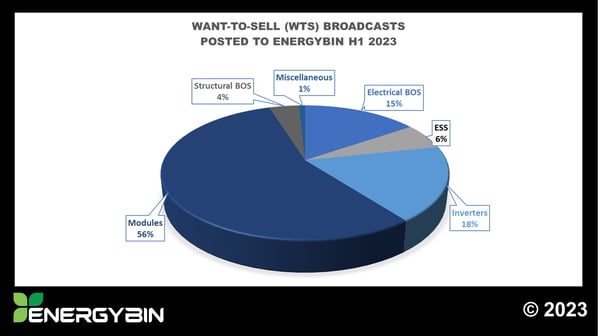 Requests to buy products
The report analyzed a sample of 137 Want-to-Buy (WTB) Broadcasts posted to the EnergyBin platform to assess buyer needs by product category breakdown. Like sales posts, requests for modules represented the largest category at 53 percent followed by inverters at 26 percent and electrical BOS at 13 percent.
Note that it's common for buyers to conduct searches on the platform and contact sellers directly rather than posting a WTB Broadcast. Therefore, it should not be assumed that there are fewer buyers than sellers on EnergyBin. Furthermore, as previously mentioned, several members dually buy and sell on the exchange.
Of the total WTB Broadcasts, 9 percent were from members in search of excess or overstock, 29 percent were looking for replacement parts, 8 percent were seeking to add onto existing solar arrays, and 3 percent wanted to buy used modules and inverters for remanufacturing and recycling. The remaining 51 percent needed hardware price quotes for new projects.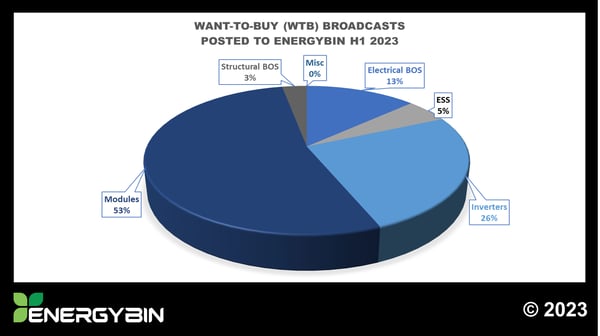 Brands in demand
Both sales listings and buying requests shed light on module and inverter brands in demand. Buyers are looking for top quality products and tend to prefer Tier 1 brands. However, nearly 20 percent of WTB posts stated "Any" in the manufacturer field, which means they aren't always limited to purchasing specific brand names.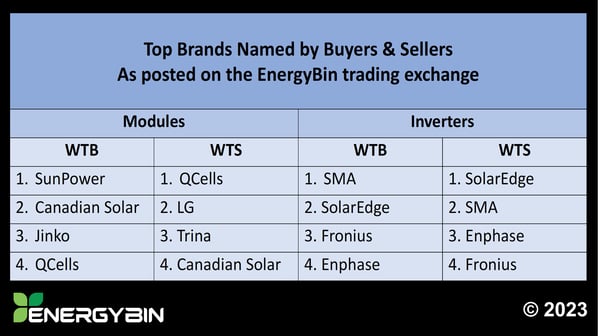 Although these module and inverter brands appeared most frequently in WTB and WTS posts, another grouping of brands is worth mentioning, which is that of module replacement brands. As noted in the previous section, 29 percent of WTB posts were from buyers looking for replacement parts. Over 95 percent of these posts were lenient with respect to condition and warranty status, stating they would purchase "Any" condition and did not require the modules to be covered by a warranty.
Such flexibility is altogether necessary in a global market where it's increasingly harder to find replacements for older modules that are discontinued or whose manufacturer is no longer in business. The legacy modules referenced in WTB posts ranged in wattage from 120 to 310. The most common brands in this category were SunPower, First Solar, Centrosolar, Suniva, Phono, Kyocera, UP Solar, Solar Frontier, SunTech, and SolarFun.
PV module prices by technology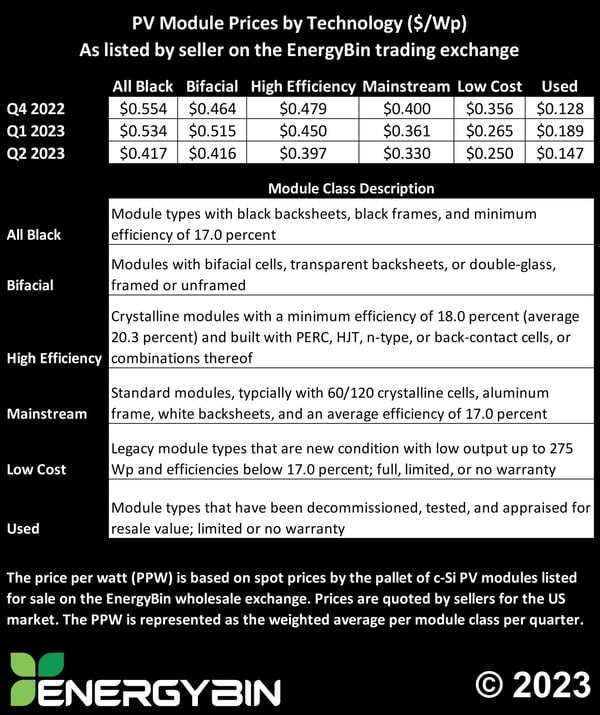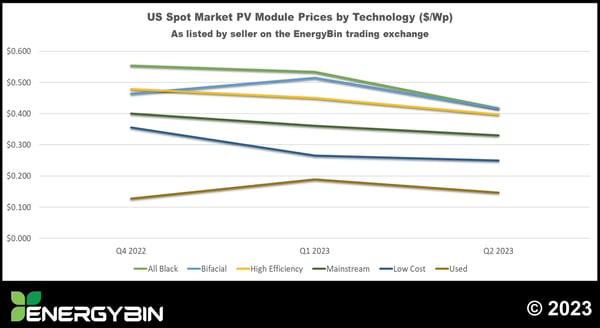 Pricing across all module technology classes has been on a downward trend since last year. This trend is in line with the U.S. spot market, which is currently experiencing the lowest module prices since 2019. At the close of the second quarter, prices for All Black and High Efficiency modules were listing as low as $0.27 per watt on EnergyBin.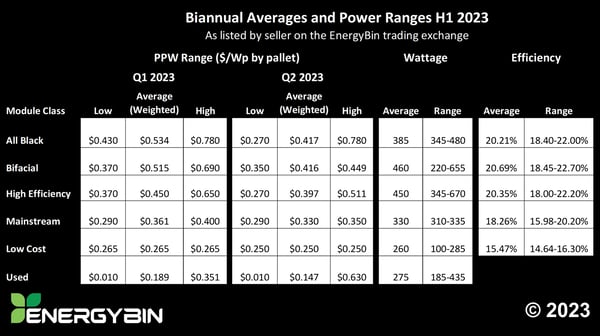 For All Black, the price per watt decreased by 25 percent since December 2022. Bifacial modules declined by 10 percent, High Efficiency by 17 percent, Mainstream by 18 percent, and Low Cost by 30 percent.
The National Renewable Energy Laboratory (NREL) expects module prices to continue to decline as much as 15 percent over the next 3 years. However, U.S. prices will remain higher than global prices primarily due to trade tensions between the U.S. and China.
In addition to declining prices, the gap between All Black, Bifacial, and High Efficiency classes has shrunk since the fourth quarter of 2022. In past quarters, U.S. prices widely varied among these three classes where All Black paced higher than any other category. The variance may have been grossly affected by supply constraints, including backlogs at U.S. ports caused by the Withhold Release Order that took effect on June 21, 2022. As evidenced in the next section of this report, supply of these three module classes largely increased in H1 2023, which likely had a positive effect on pricing.
Although this report highlights U.S. prices as seen on the EnergyBin exchange, non-U.S. prices for High Efficiency (450 – 670 watts) modules exported from China posted between $0.200 and $0.222 per watt in H1 2023. These postings are tracking with global prices, which soon will be as low as $0.185 per watt.
Regarding Used modules, the average price per watt increased by 15 percent since December 2022. However, keep in mind that several factors go into determining resale value, for example, their age, wattage, quantity, condition, and testing performance. Therefore, the spot prices listed in this report should be considered a reference point, not a universal measure. As no global baseline price exists for secondhand modules, prices remain rather subjective.
PV module availability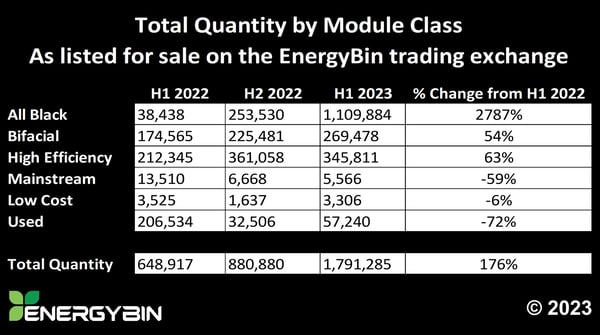 Overall module supply posted for sale on EnergyBin increased 176 percent since H1 2022. The nearly two-fold increase was primarily seen in the All Black, Bifacial, and High Efficiency module classes. These classes comprised 96 percent of total modules for sale on the exchange at the close of H1 2023.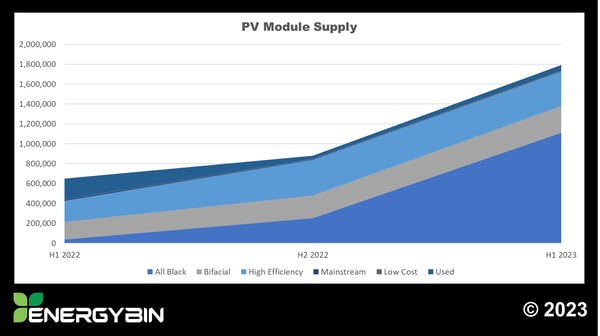 The declines seen in the Mainstream and Low Cost classes aren't surprising considering the fact that most manufacturers have expired their production in lieu of higher power modules. Used modules for sale have increased from H2 2022 by 76% albeit short of H1 2022 quantities.
If the upward trend in quantity is any indication of what the future holds for the secondary solar market, then we can conclude that it's well on its way to becoming a robust market supportive of reuse, repair, resale, remanufacturing, and recycling.
Conclusion
The findings in this report support the business case for a robust and sustainable secondary market for PV hardware reuse, resale, and recycling. Using the EnergyBin trading exchange as a gauge for this case, we see a network that is growing in both membership and quantity listed for resale.
Additionally, EnergyBin is a resource for market intelligence with respect to pricing and availability of PV hardware that has fallen out of traditional distribution channels. This report concludes that there is an expanding resale market of both new and used PV hardware.
More Resources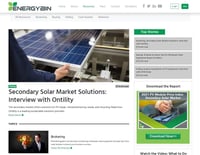 Browse more articles, reports, case studies, and webinar recordings on buying and selling wholesale solar equipment in the secondary market in our Resources portal.