We are all familiar with the primary market in the solar industry. Panels, inverters and other components flow from manufacturers to distributors to contractors. If a manufacturer wants to offer a new product for sale, he or she will partner with pre-approved distributors. If a residential installer needs to order equipment for a standard 7 kW roof-top system, he or she will contact the primary distributor to place the order.
The primary market serves well the needs of new products and projects.
Q. But is the primary market capable of meeting every solar equipment need in a rapidly growing industry and years into the future?
When one considers a number of common scenarios – such as sourcing equipment when demand outweighs supply, locating hard-to-find replacement parts and selling older equipment models, to name a few – it becomes clear that an alternative to the primary market is necessary.
That alternative is known as the secondary market.
In this article, we'll provide a definition of the secondary market, share reasons why the secondary market is good for the solar industry and offer some suggestions of how you can take advantage of new business opportunities in the secondary market.
The Secondary Market – What is it?
In a nutshell, the secondary market brings buyers and sellers together to trade securities or commodities that have previously been issued or introduced into the primary market. Ownership changes hands multiple times before a product's end-of-life.
Typically, the term, "secondary market" refers to the stock market. EDUCBA describes the difference between the primary and secondary markets in this manner:
"The securities are firstly offered in the primary market to the general public for the subscription where a company receives money from the investors and the investors get the securities [known as the IPO – initial public offering]. Thereafter, they are listed on the stock exchange for the purpose of trading [secondary market]."
This same concept also exists in many industries that deal in a number of goods. Along with goods traded in the secondary market, new services are created to support trade and reuse of those goods.
For example, the real estate industry represents a portfolio of new and used properties that may change ownership multiple times. The original developer or property owner may be involved in the initial sale. But then, a real estate broker resells the property as owners come and go. In addition to brokers, the real estate secondary market has generated opportunities for insurance companies, appraisers and repair services – all services that the original owner/developer would not offer.
Another term for the secondary market is the aftermarket.
BusinessDictionary defines the aftermarket as a "secondary market that supplies accessories, spare parts, second-hand equipment and other goods and services used in repair and maintenance."
Many commodity industries have robust secondary markets. For example, the automobile industry's established aftermarket supplies replacement parts for repairs as well as used vehicles for sale. Insurance companies consult the aftermarket when claims are filed to source replacement parts for appraisals. Using parts found in the aftermarket saves time and money for the claimant, offering an alternative to buying parts from a manufacturer.
The solar industry's secondary market
In the solar industry, the secondary market is following a business trend that started in the early 1990s. Companies throughout North America, Europe and Japan shifted from merely offering products to delivering value to their customers. This trend came at the cusp of staggering demand, increased competition and shrinking profit margins.
Harvard Business Review comments that, "as businesses began offering solutions instead of products, it became evident that selling spare parts and after-sales services – conducting repairs; installing upgrades; reconditioning equipment; carrying out inspections and day-to-day maintenance; offering technical support, consulting and training; and arranging finances – could be a bountiful source of revenues and profits as well."
That is why we see a distributor offering consulting services and financing options and an installer providing O&M services. These services offer additional revenue streams and prop up bottom-line profits.
Such revenues and profits gained from secondary market activities may even surpass that of companies' primary product or service offerings. Harvard Business Review notes that:
"In industries such as automobiles, white goods, industrial machinery and information technology, companies have sold so many units over the years that their aftermarkets have become four to five times larger than the original equipment businesses." It is estimated that "American businesses and consumers spend approximately $1 trillion every year on assets they already own."
Secondary market players in the solar industry
Those engaged in equipment trade in the secondary market include solar companies, solar equipment brokers, resellers and suppliers, recycling and refurbishment firms, insurance companies and third party warranty companies. These players connect to each other online through exchange markets, like EnergyBin.
Many companies operating in the secondary market take on dual roles of 'buyer' and 'seller'. In one transaction, a company may offer product for sale; in the next, that company may need to buy equipment from another company.
Other companies specialize in solar equipment brokering and represent a range of clients, including DIY homeowners, bargain shoppers, non-profit organizations, savvy commercial property owners, O&M companies and repairers. Many secondary market brokers serve clients throughout the world.
Secondary Market Scenarios in the Solar Industry
Keeping our definition in mind, let's explore common scenarios that occur daily in the solar industry's secondary market. As the global market ebbs and flows, other scenarios beyond these listed may present themselves. Again, it is important to remember that each scenario illustrates how the secondary market becomes a viable alternative when the primary market falls short of fulfilling customers' needs.
10 Reasons why the secondary market is good for the solar industry
Demand for solar equipment outweighs supply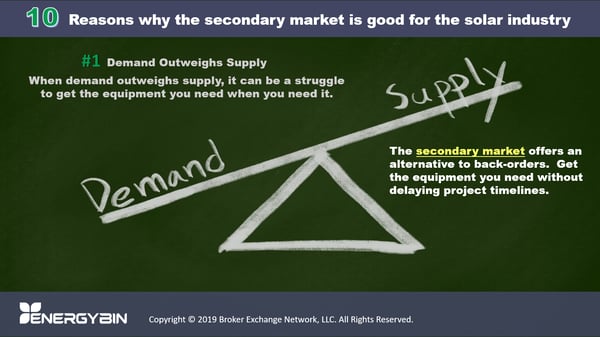 When the solar industry experiences a surge in growth, demand can often surpass supply. In the United States, demand will continue to outweigh supply in the near future as domestic supply comprises only about 5 GW, less than half of current demand levels.
Growth booms after legislation in favor of solar takes effect. We also see demand increase when utilities, investors and consumers rush to qualify for tax incentives before they decline or end. The market typically corrects itself by raising prices when demand rises. But there can be a lag-time before demand and supply balance out. Meanwhile, the need to maintain project schedules persists.
In the event that demand puts too much pressure on the primary market to fulfill orders on time, the secondary market offers an alternative option. For example, say you call your primary vendor to place an order and learn that the product you need is back-ordered for six weeks. You need the product drop-shipped to your project site in two weeks. Pushing the project back by four weeks risks incurring additional costs, or worse, a cancellation. You decide to send out an RFQ to the secondary market network and receive 2-3 responses from other companies who can supply the product on time.
Hard-to-find replacement parts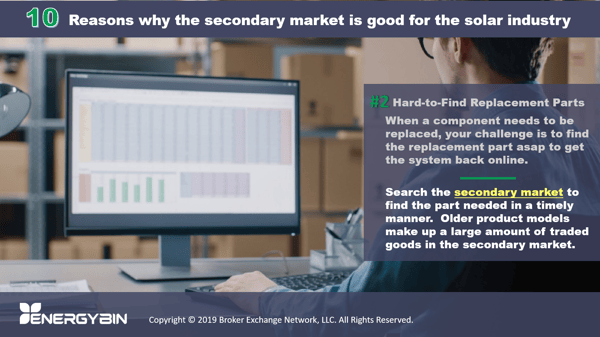 From time to time, a replacement panel, inverter, battery or other component of a solar system may need to be replaced. Perhaps the part was damaged from natural causes. It could have malfunctioned, or it could be under-performing.
Ideally, the product warranty would cover the replacement. But the warranty may have already ended. The manufacturer could have gone out of business. Or, the exact match of the older component is not available from the manufacturer. Even if the manufacturer has a spare in stock, it may prove to be costly or not feasible to make a purchase without a quantity discount.
Plus, if the array is off-line because of the missing component, there may not be time to spare if a manufacturer cannot turn around a warranty claim quickly.
In crucial situations that require specific replacement parts, the secondary market works to match the part needed in a timely manner. Older product models make up a large amount of traded goods in the secondary market.
Further, companies can include the secondary market in their procurement process to proactively search for replacement parts they might not need today but will need in the future. This practice would especially be appropriate for those parts that are no longer in production by the manufacturer and for those looking to reduce their risk of doing business.
Older equipment models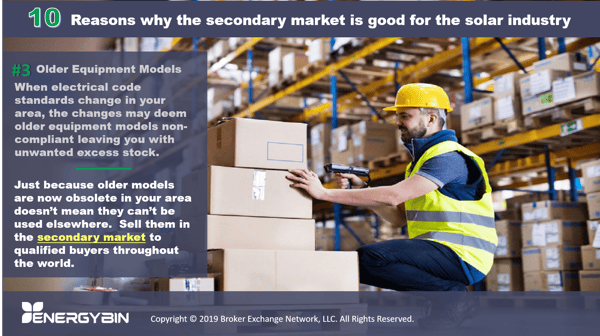 There are instances when certain equipment held in inventory becomes obsolete. For example, changes in local or regional electrical code standards could deem inverters on-hand non-compliant for grid-connected projects.
Before boxing up your older stock for the junkyard, connect to qualified buyers in the secondary market. Because the secondary market spans across borders, you are not confined to buyers in your local area. Rather, the secondary market allows you to market your products to buyers throughout the world.
Older models can be used in off-grid arrays or in grid-connected arrays where they meet code standards. They can be used in existing systems as replacement parts or as new components to add onto an array in areas where such older models meet local standards.
Repaired equipment for reuse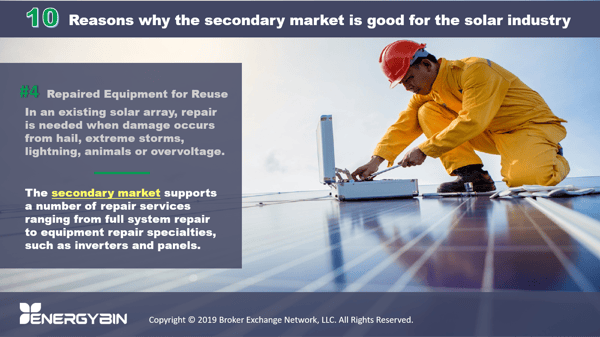 In an existing array, the need for maintenance will occur from time to time. The secondary market supports a number of repair services available. Service providers tend to offer solar system repair after hail, extreme storms, lightning, animal damage or over-voltage. Other service providers may specialize in component repair like inverters or panels.
Using a repair service can be more cost-effective and timely than searching for new replacement parts. Even if the damaged component is still under warranty, the time-lapse from receiving the new component could be longer than repairing it. There is also the possibility that no replacement exists.
Qualified service providers can recommend whether you should repair or replace a damaged component. Some insurance policies may require repair.
Refurbished equipment for resale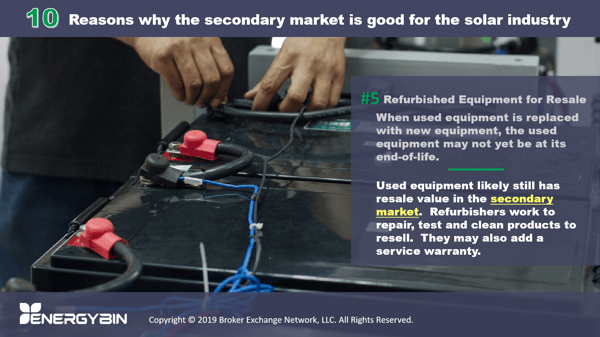 When used equipment is decommissioned with the intention of replacing it with new components, the used equipment likely still has resale value. Depending on the condition of panels, inverters, batteries, wiring and hardware, such components can be offered for resale.
Companies and brokers who specialize in refurbishment and resell provide maintenance, testing and cleaning before re-positioning the product for sale. They tend to know supply and demand levels of used equipment. Many will add a service warranty for a designated time period.
By working with a qualified reseller, you can determine whether the used equipment can be resold or should rather be recycled.
Equipment from cancelled projects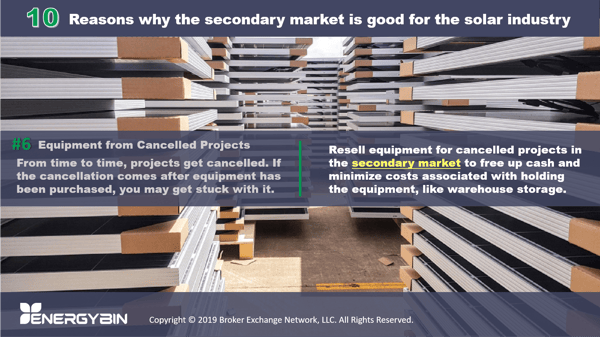 From time to time, projects may get cancelled. If the cancellation comes after equipment has been purchased, you may find yourself stuck with it. In this situation, you could try to roll the inventory into another project. Or, you could resell the equipment in the secondary market for a revenue boost.
Reselling equipment from cancelled projects creates new revenue, frees up cash and minimizes costs associated with holding the equipment, such as interest owed from purchasing on credit and warehouse storage. Plus, there's no guarantee that the equipment could be used in another project in the near future. The longer you hold the inventory, the more its value depreciates.
In the secondary market, many solar equipment brokers work with contractors and installers to take inventory of equipment from cancelled projects and position it for resale. Some will come to your place of business, assess the product and offer you a cash buyout.
Product from liquidations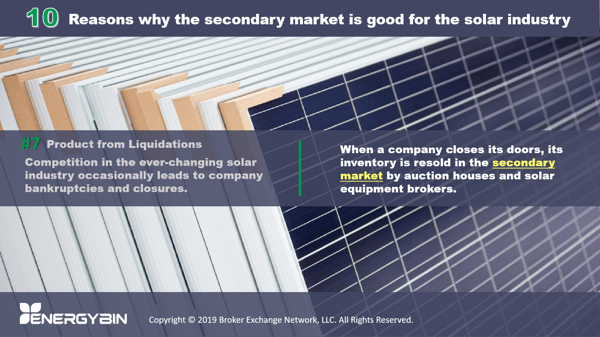 With competition in the solar industry comes bankruptcies and closures. When a company closes its doors, assets, including solar equipment inventory, are resold in the secondary market.
Regarding liquidations, most people think of auction houses and bidding, where the highest bidder wins the purchase. But you can also buy equipment from liquidations through solar equipment brokers.
Purchasing liquidated product may prove to be cost-effective, and many orders will ship within days. Warranties may still apply as well, either through acquisitions or third-party warranty companies.
Surplus, clearance and excess stock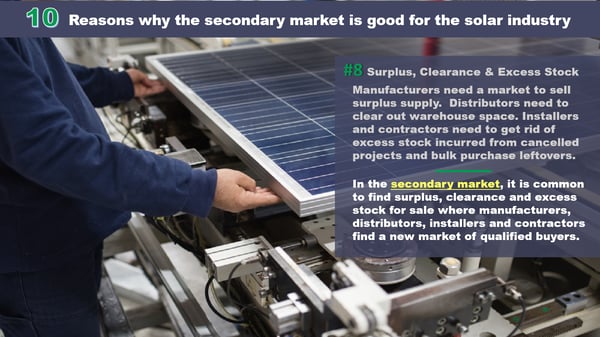 In the secondary market, it is common to find surplus, clearance and excess stock for sale. Usually, these products are new and sell at or below wholesale prices.
Surplus is a manufacturing term to define an excess of production beyond what manufacturers expect their primary customers to buy. Clearance comes from distributors or suppliers with inventory on-hand that they mark down in price with the goal of clearing stock from their warehouses. Excess stock can be incurred by any company handling equipment for many reasons, primarily due to cancelled or delayed projects, changes in electrical code standards, bulk purchase leftovers and decommissioned arrays.
Such products are sold in the secondary market by manufacturers, distributors and suppliers, EPCs, contractors and installers. Most often, solar equipment brokers work with these companies to leverage their products for sale.
Functioning product with minor cosmetic blemishes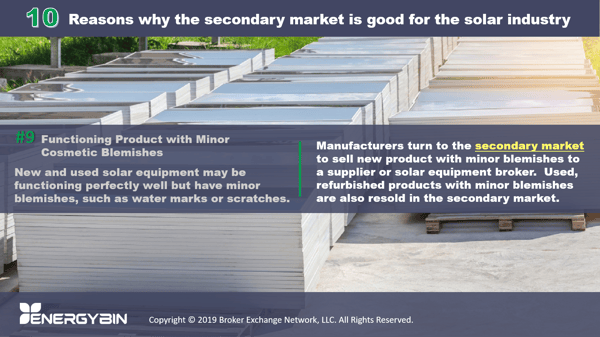 By functioning product, we mean the equipment is performing at the specified electrical output. Minor cosmetic blemishes are visible as tiny defects, such as water marks or scratches. Products with minor cosmetic blemishes are classified as B-grade.
A manufacturer may turn to the secondary market when equipment comes off the production line with minor cosmetic blemishes. The manufacturer tests the product and determines it is performing on par with specifications. The manufacturer proceeds with either offering the product for sale in the secondary market or selling the product to a supplier or broker to resell.
Additionally, product with minor cosmetic blemishes can be used equipment that has been refurbished. Again, the product would be tested to ensure functionality and appropriate electrical output. The reseller may add a third-party warranty.
Recycled, end-of-life materials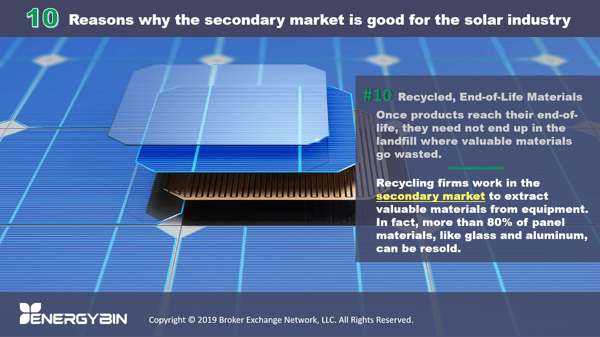 Once a product reaches its end-of-life, the secondary market offers a sustainable option - recycling. PV panels, for example, are mainly made up of easy-to-recycle materials, such as glass and aluminum (80+% of the panel), which can be extracted for reuse. Aside from panels, inverters, mounting and racking systems can also be recycled.
Recycling firms tend to work hand-in-hand with companies managing equipment to ease the end-of-life process and ensure valuable scrap does not end up in landfills. Many countries and regions throughout the world have passed legislation that includes requirements for end-of-life management.
In the United States, SEIA's National PV Recycling Program is a growing network of vetted PV recycling vendors and service providers. The program is proactively developing collection and recycling processes for the U.S. market.
New business opportunities in the secondary market
As discussed in the previous scenarios, the solar industry's secondary market presents many opportunities for entrepreneurs and companies to pursue.
When it comes to equipment trade, the greatest opportunity is solar equipment brokering. Brokers are exceptionally good at networking and building relationships, knowing equipment pricing through and through, and maintaining minimal overhead costs. Brokers tend to adopt the principle of buy low/sell high, but without pricing their products out of the market.
Equipment brokers operate under many different business models. They may take ownership of products or act as representatives between buyers and sellers. Some offer value-added services to provide clients with a holistic experience. Others specialize in a specific field, for example, international transportation logistics.
Whether you are a broker, you are thinking of becoming a broker, or your company works with brokers, it is important to know where to find them. For instance, EnergyBin is an online B2B exchange that pre-approves companies and brokers for membership to the exclusive network. An online exchange makes equipment trade easy as buyers and sellers who are ready to deal come together. You can also keep tabs on pricing, supply and demand of thousands of components on such an exchange.
Want to learn more about solar equipment brokering?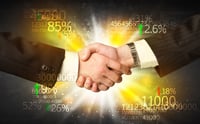 Read the Comprehensive Guide to Wholesale Solar Equipment Brokering, and explore if this field is right for you.
In addition to solar equipment brokering, the secondary market calls for a variety of services. Find your niche in repairs as a solar system maintenance company, as a components repair specialist, or both. Consider starting a third-party warranty firm. Launch a recycling company.
If starting a new company is not in line with your business goals, explore how the secondary market can help improve your company's customer service experience.
For instance, an installer may want to add in-house repair services or form a partnership with a repair specialist. The installer should consider the secondary market for quoting new systems to ensure they are securing the best pricing for their customers. The installer should develop a process for buying replacement parts and selling excess equipment they may incur. The installer should have a plan in place for the reuse and recycling of components, knowing when decommissioned products can be refurbished and reused (resold) and when they should be recycled.
Q. How can your company reap the benefits of the secondary market in the solar industry?
By taking the time to strategically think about this question, you may end up with a plan that leads to increased profits and customers for life.
More Resources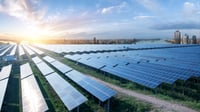 The Ultimate Guide to Buying Wholesale Solar Equipment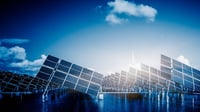 The Ultimate Guide to Selling Wholesale Solar Equipment