The following article is the transcript from a conversation with Melissa Schmid, marketing communication manager, Rob Van Demmeltraadt, sales manager, and Thomas Hennessey, business development manager at EnergyBin, who share insights about reselling PV hardware in the secondary market.
Click on the video to view the interview.
Hello. Welcome to this edition of Market Watch brought to you by EnergyBin, the leading B2B exchange for PV hardware resale.
I'm Melissa Schmid, the marketing manager at EnergyBin, and I'm joined by my colleagues, Rob Van Demmeltraadt and Thomas Hennessey, who are experts at connecting buyers and sellers of wholesale solar equipment. Thanks for being here, guys.
Today, we're chatting about resale trends within the secondary market based on activity we're seeing on the EnergyBin exchange and from our latest report, the PV Module Price Index.
This 2nd annual report tracks pricing and availability of crystalline-silicon modules listed for resale on EnergyBin. To download the PV Module Price Index, visit our website at EnergyBin.com.
From surplus to clearance to project leftovers and asset liquidations, there are a number of instances that lead a solar company to resell modules, inverters, batteries, and other hardware in the secondary market.
Perhaps the main reason why individuals seek out resale solutions is Asset Recovery, as equipment that falls out of primary channels may be new or used and in many cases, is not ready for recycling. These goods can be remarketed in the secondary market.
Our goal during this conversation is to provide sellers with trends and strategies that will guide you in Remarketing options. Additionally, buyers will glean tips for finding deals and sourcing replacement parts in the secondary market.
Rob and Thomas, you spend your days consulting solar companies on buying and selling PV hardware in the secondary market.
1. What's the word on the street from EnergyBin members regarding supply chain shortages and overall equipment availability in 2023?
Thomas: We're still seeing PV equipment shortages in the United States. That may be slowing the rate of PV installations. Rob and I are still hearing about project delays and cancellations. In some cases, companies can't find the material they need on time. Furthermore, buyers are regularly posting messages on EnergyBin for equipment they're looking to purchase.
Melissa: You mentioned the U.S. What's the word from Europe?
Rob: Obviously there's an energy conflict going on there. What we're hearing is the desire to move away from the grid as well as dependency on Russian gas and oil. They're looking for alternative energy sources. Actually, the European market is probably more developed than the overall North American market with the exception of the southern parts of the U.S. We're receiving inquiries from Europe, and our challenge is posting their PV hardware needs.
2. Per the PV Module Price Index, solar modules for resale on EnergyBin have increased four-fold in Quarter 1 of 2023 over Q1 of 2022. What are some common reasons why solar companies choose to resell modules on the exchange?
Rob: It comes down to opportunity. There's a huge market for used panels. This entire secondary market isn't just about secondhand modules; it's also about a supply chain alternative. When it comes to solar panels that have a 40-50 year lifespan, albeit less efficient than new, there are opportunities to repurpose used panels in other areas such as off-grid and agricultural applications as a viable alternative to disposal. People are discovering that the resale of used modules is becoming a revenue stream for them. That revenue allows them to offset the cost of new hardware they're purchasing. Rather than paying to recycle goods that aren't ready for recycling, they're finding they can make money on these modules.
Melissa: That's a great point, Rob. We'll talk more about secondhand modules in a bit. For our listeners, the share of new versus used material on EnergyBin is 91% new and 9% used. That ratio may change as the secondary market grows. We just had a member post a Want-to-Sell broadcast of used LG 295-watt modules because the building they were installed on is getting demolished. These panels still have energy to give, and the owner has turned to asset recovery. As many of you know, LG left the solar module manufacturing business last June, and therefore, LG modules are in hot demand, especially as replacement parts.
3. What other equipment besides modules are you seeing posted for resale on EnergyBin these days?
Thomas: We see a variety of equipment on EnergyBin. Inverters are in high demand right now. Some weeks, I see more posts for inverters than modules. I see lots of three-phase inverters. We have companies looking for batteries and ESS storage units. One company recently posted some Tesla mega packs for sale. We see other miscellaneous equipment as well, for example, anything from a solar battery hand truck, Soladeck end plates and terminal blocks, and other BOS components.
4. Refurbished solar modules and inverters are also being posted for resale on EnergyBin. In fact, the share of Used modules increased from 4% to 9% from 2021 to 2022. And in Quarter 1 of this year, nearly 30,000 secondhand modules have been posted for resale. These numbers point to more and more decommissioning projects where modules are deemed to have resale value. Would you comment on what options installers and asset owners have to resell secondhand material?
Rob: It's really a great opportunity to expand your downline because it will cost you money to recycle this equipment. Again, there's an emerging secondhand market. These modules are the hottest demand item we see and the fastest moving goods on the EnergyBin exchange. For example, the largest lot posted to the platform to-date amounted to 51 megawatts of used panels, which moved fairly quickly. The seller made $6 million in revenue from this transaction rather than having to pay $1 million in recycling costs for functional material that clearly had resale value.
Nowadays, there are emerging companies that are re-certifying modules and inverters, and subsequently remarketing them.
Melissa: That is so true, and I would add that many of the value-added service providers who specialize in testing, inspections, appraisals, and the like prefer that asset owners contact them before the system is decommissioned because they can inspect them at a much higher level of accuracy when they're still hooked up. Plus, some will add on services of decommissioning, packing, and shipping, while offering a cash buy-out on-site. Contact us if you need to get in touch with these types of companies. We'll be happy to refer you to them.
5. What tips do you have for buyers who are looking for deep discount deals or hard-to-find replacement parts, particularly those that are no longer in production?
Thomas: As a buyer, the easiest thing you can do is sent a Want-to-Buy (WTB) broadcast through EnergyBin. For those of you who aren't familiar, a broadcast is a mass email that goes to all members that expresses your buying needs. Broadcasts are meant to save you time. We also have an RFQ feature as well, which is useful if you're looking to simply gather pricing information. Sending either the WTB or RFQ is your best bet for finding discounts as well as replacement parts.
Melissa: Additionally, a few key findings from the PV Module Price Index were seasonality and asset liquidations.
With respect to seasonality, supply increased in quarters 1 and 4, which also led to lower prices in that same timeframe.
With respect to asset liquidations, many companies tend to have project cancellations or downgrades that they seek to recover their costs and therefore tend to offer discounts.
The secondary market is just like the primary market. You need to keep tabs on pricing and availability, which means someone in your company needs to be keeping a regular eye on the data.
6. I often hear you recommend to companies to upload their inventory to the EnergyBin platform and send a Want-to-Sell broadcast email. Would you explain the benefits of doing both, and would you briefly show us how to complete these actions on EnergyBin?
Thomas: It's important to upload your inventory because when buyers search by keyword, you want your inventory to show up in the search results.
To send a broadcast, you can hover over the Broadcast tab and click Send. To send a Want-to-Buy, click the WTB box and the subsequent Part box.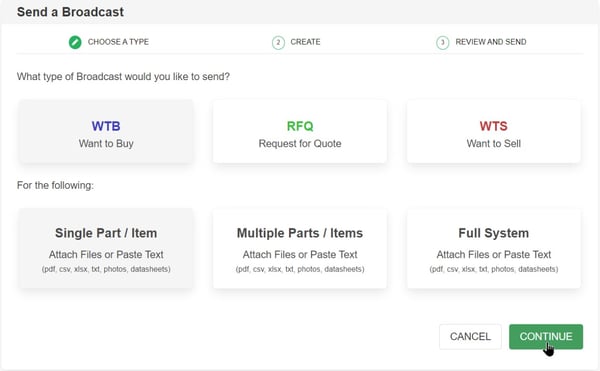 The process is the same for a Want-to-Sell broadcast. Fill out the form, and when ready, click send. The message is sent to the entire EnergyBin network.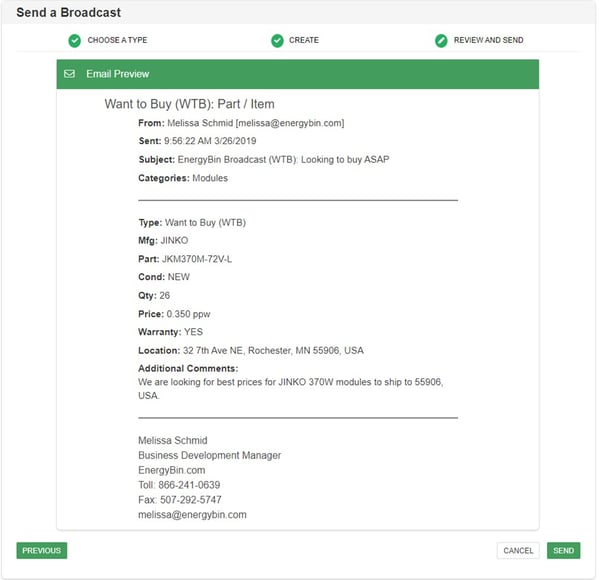 For inventory postings, go to the Manage tab, and click on Inventory. There's a quick and easy way to add inventory line by line under the Add tab.

Or, you can upload inventory via an Excel spreadsheet or set up auto uploading.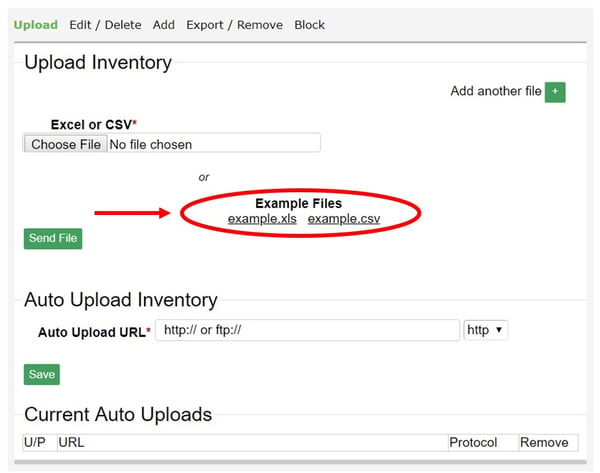 Buyers can submit quotes directly from inventory listings. Once you post your inventory, there's a Stats column that shows who has searched for your parts or for similar keyword matches.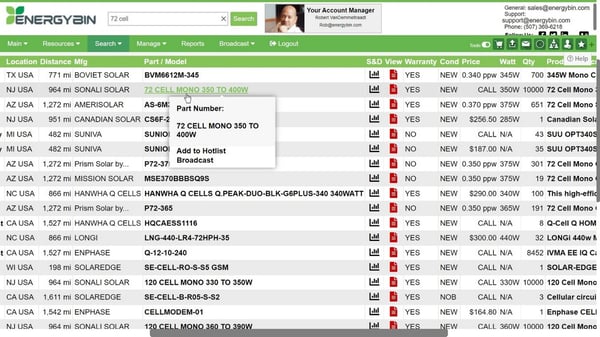 Rob: The reason you want to post your inventory and send a broadcast is so other people see what you have. Here's what it looks like on the platform once you've sent a broadcast.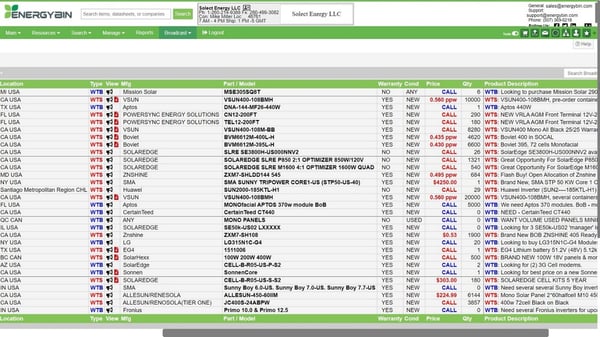 I often hear companies who search on the platform say that they can't find what they're looking for, which means a seller didn't take the time to post it, or a buyer didn't send a Want-to-Buy broadcast. You have to let people know what you have or what you're looking for.
If I'm a mainstream distributor, why should I post my inventory?
Because you want to show up when someone conducts a search. It creates opportunities for you to build and nurture relationships. This business is about relationships. As you develop your relationships, this is your opportunity to meet some great partners.
7. These days, it seems like companies are looking for opportunities to diversify their revenue portfolios. One big opportunity within the secondary market is solar equipment brokering. Would you explain what solar equipment brokering is, and give advice for realizing success in this role?
Rob: Solar equipment brokering is about finding equipment to match to a buyer. In some cases, you may never take possession of the equipment, especially when it comes to used products.
Say an organization's PPA agreement is expiring, or new net metering is coming into play, or the building is being demolished, your options are to recycle the PV hardware parts or to resell them.
Here's an example. We had a member out of California who was able to redirect decommissioned modules to a buyer by overseeing the packaging and shipping of the goods from the seller's location to the buyer's. In this situation, he was able to use his relationships developed through EnergyBin to find a new home for these panels.
Another example is about a broker on EnergyBin who has a background in warehouse management and realized the opportunity of reselling excess hardware, which led to him starting his own company. He's been in operation for about six years and has found great success.
A third example is about a member who is a trader on both EnergyBin and our sister site, BrokerBin. He is very knowledgeable about trading and showed interest in solar. He's willing to take any used panels and is also available to pick up used panels. He's making the transition from IT hardware to solar because of his ease of finding partners.
Melissa: I love these success stories, some of which have been published as articles and are available under our Resources tab on our website. Check them out at your leisure.
Also, Thomas made it look so easy to post equipment for resale on EnergyBin. Consider it an extra five minutes of money-making time.
Wrapping it up, I want to thank you, Rob and Thomas, for your insights and keeping us up-to-date with secondary market trends.
For our viewers, if you'd like to talk one-on-one with Rob or Thomas about your solar hardware buy / sell needs, reach out to us at EnergyBin.com.
Also, subscribe to our YouTube channel to get more tips for buying and selling wholesale solar equipment in the secondary market.
From the entire EnergyBin team, we wish you success in your efforts to advance solar energy. Thank you for all you do, and thanks for watching.
More Resources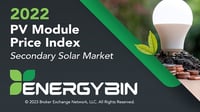 PV Module Price Index - Secondary Solar Market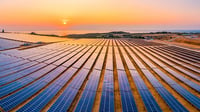 5 PV Module Trends in the Secondary Market to Watch in 2023