Product availability and pricing for crystalline silicon (c-Si) modules fluctuate from month to month and year to year. This is especially the case for those modules that are listed for sale in the secondary market. Although the past three years have exposed supply chain constraints, historical data reveal trends that shed light on the year ahead.
This article spotlights five trends for wholesale buyers and sellers who deal in PV module trade within the secondary market. Numbers and figures are presented by EnergyBin, a B2B wholesale solar equipment exchange comprised of 500+ members from across the supply chain.
What does 'secondary market' mean?
The secondary solar market is like the "ITAD" of the solar industry. It is the space where asset disposition – repair, resale, and recycling – of PV hardware takes place.
Essentially, the secondary market serves three main functions. First, it provides another opportunity to resell new hardware that has fallen out of traditional distribution channels. Second, it extends the lifespan of used products that are not yet ready for recycling. Third, it creates a pathway for end-of-life hardware to ultimately be recycled and for valuable materials to be recovered, rather than solar waste going to landfills.
Product flows into the secondary market by way of these most common conduits:
Remarketed products that primary buyers aren't purchasing, including clearance, close-outs, surplus, and miscellaneous one-offs

Asset liquidations from company acquisitions and bankruptcies

Leftover products (new with warranty, yet never installed) from bulk purchases and project installations

Products for resale (new with warranty, yet never installed) resulting from project cancellations, project delays, and downsized projects

Products for resale that are used, refurbished, or remanufactured and have no manufacturer warranty, but possibly have an assigned 3rd party warranty and/or service warranty.
Along with trade comes opportunities within the secondary market for companies to provide value-added services, such as solar equipment brokering, decommissioning, repair and remanufacturing, insurance, finance, logistics, and third-party warranty assignment.
Many companies who do business in the secondary market are also primary market players. They have found that having a secondary market strategy increases their bottom-line profit as well as enhances customer service, as they're able to serve customers over the entire lifespan of their PV systems.
Solar Module Trends
Achieving success within the secondary market requires an astute eye on market trends. The following are five trends based on c-Si modules listed for sale on the EnergyBin exchange. Modules comprise 60% of total hardware posted for resale on EnergyBin.
Trend 1: The secondary solar market is growing.
As global demand for solar energy booms, the secondary market continues to grow. Although market size is not currently being tracked by industry analysts, evidence from the EnergyBin wholesale exchange shows a positive growth projection.
The below graph shows an increase in market size from 2020 through 2022 of 10%, which is measured by the number of c-Si modules listed for sale on EnergyBin.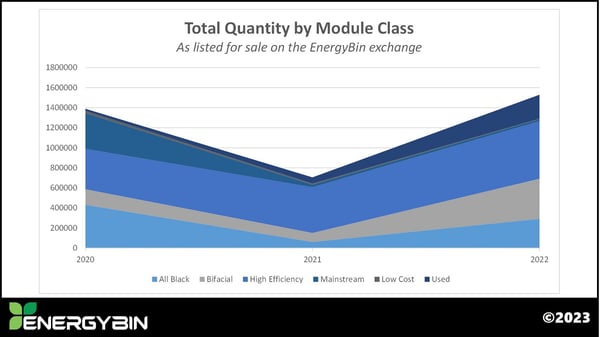 Although the market experienced a dip in 2021 due to supply chain constraints caused by the coronavirus and international trade disputes, supply rebounded in 2022. Total modules reached a cumulative 1.35 gigawatts, up from 746 megawatts in 2021. These upward trends point to a growing secondary market, albeit small in volume compared to the primary market.
Trend 2: Most modules in the secondary market will continue to be high efficiencies.
For the third consecutive year, the majority of c-Si modules listed for sale on EnergyBin contained high efficiencies. This classification includes all black, bifacial, and other modules with an average efficiency of 20.3%.
The following graph shows module class breakdown in 2022. All black, bifacial, and high efficiency classes comprised 79% of total modules for sale on EnergyBin.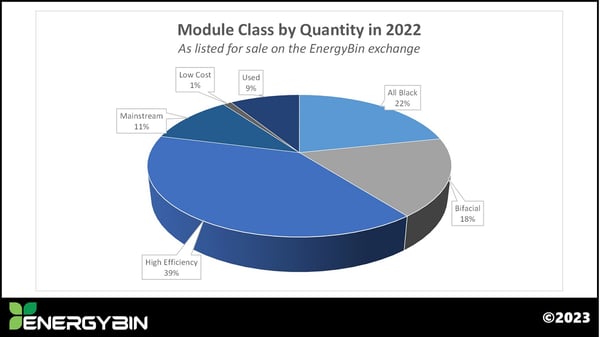 Of these modules, 90% were made with P-Type mono cells, and 10% with N-Type cells. The high efficiency trend will likely continue for the long term. However, the market may see a shift in market share from P-Type to N-Type cell technologies over the next five years, as N-Type becomes more dominant.
Trend 3: Locating new modules at lower wattages is getting more challenging.
As hinted in the previous trend, module technology will continue to improve, and therefore, lower wattage modules of yesteryear are fading away. This trend will make it challenging for O&M specialists and asset owners to source replacement parts for aging systems.
In 2022, the volume of modules that are considered mainstream (those between 275 and 335 watts) and low cost (legacy models up to 270 watts) available for sale on the EnergyBin exchange decreased by 98% and 10% respectively since 2020. Poly modules, and to a lesser extent full cell modules, were particularly in short supply. Perhaps, mainstream module supply will somewhat rebound as supply chain constraints ease. If it does, it most likely would only last for a short term.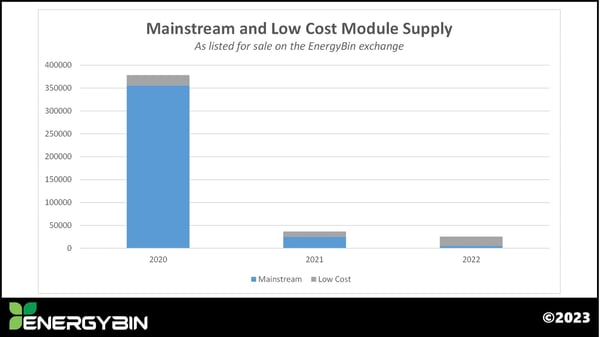 Some asset owners will opt to repower, especially as module prices for new technology yield higher returns than their older counterparts. Others will select to contract a repair technician, particularly if maintenance costs are less than replacement or repowering. In either scenario, opportunities will increase for decommissioning and repair service providers.
Trend 4: Secondhand module supply is increasing.
Secondhand modules available for purchase will help to supply replacement parts for aging systems. They will also help with the overall adoption of solar as an affordable energy source.
On the EnergyBin wholesale exchange, sellers tend to list used modules from 50-80% less than new. In 2022, used modules represented 9% (or 71 megawatts) of sales listings, up from 4% in 2021. This upward trend points toward a growing number of decommissioning projects, where modules coming offline still have viable functionality (i.e. they're not yet ready for recycling).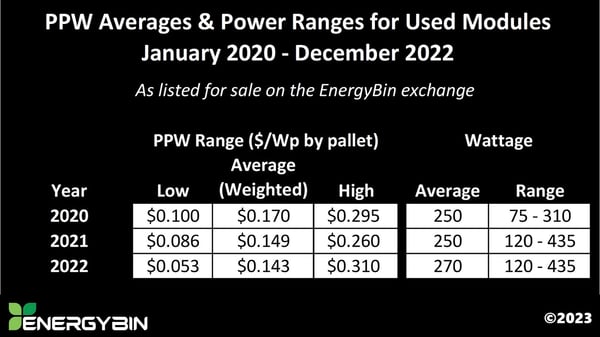 Module prices posted to the EnergyBin exchange have stayed rather consistent over the past three years. Although, many factors, including years in production, wattage, cell technology, condition, and performance measurements (e.g. degradation loss, open circuit voltage, short circuit voltage, and operating current), are considered when assessing resale value. Therefore, prices listed in this table should be considered as a reference point, not a universal measure.
In addition to the supply increase, wattages of used modules for sale have also risen. In 2022, the average wattage was 270, up from 250 in 2021. This average will likely jump to the 300s in the near future, as the wattage level range of 120-435 may imply.
Trend 5: Total supply is seasonal, and prices tend to be lowest in Q4 of each year.
The trend of seasonality within the secondary market may not differ much from the primary market, as most commercial and residential installers begin the procurement process in the second half of a year for the next year's projects. New bulk shipments arriving in the first quarter lead to warehouse cleanouts in the previous fourth quarter.
Even as supply chain disruptions, such as shipment delays and backorders, were felt by the industry these past three years, modules listed for sale on the EnergyBin exchange still followed the seasonality trend of increased supply in Q4.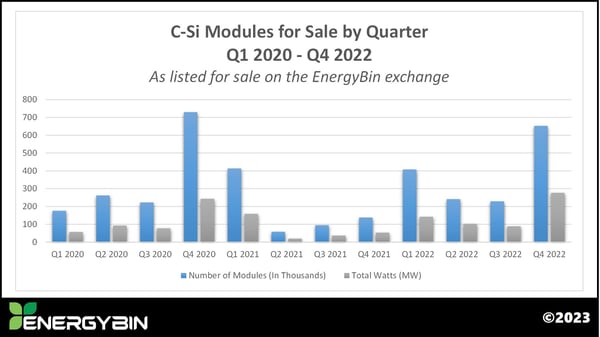 The spike in Q4 of each year led to price reductions in December, where the average price for bifacial and high efficiency modules on EnergyBin were pacing with EU spot prices at $0.43/Wp. Such data gives reason for buyers to systematically review sales listings as well as obtain quotes from multiple sellers throughout the year, so as to not miss an opportunity to buy low.
Trends + Action = Results
Whatever role your company plays in the solar industry, these trends offer an opportunity to take action.
How can your company integrate these trends into your strategic goals? What needs to change internally to position your company to pursue secondary market opportunities? What new ways can you leverage your strengths to reap results?
Taking an honest assessment of your business today and where you'd like to be ten years from now is a good starting point. If you're new to the secondary market, start small, and use your primary market business to leverage secondary market activities. If you're a secondary market expert, continue to watch the trends and carve out new opportunities for your business.
More Resources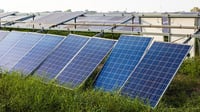 PV Hardware & Repowering Projects: Buying New and Reselling the Old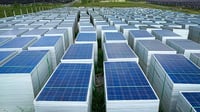 Secondhand: Used Solar Panels Help People and the Planet