In today's global economy, resellers are active in every industry, including solar. Resellers are a critical part of closing the gap in the circular economy for excess products and project leftovers, liquidations, surplus, clearance, and refurbished goods. Resellers remarket these goods for sale in the secondary solar market.
The big benefit of buying from resellers is this – significant cost savings. Often, parts for resale, both new and used, range from 20-70% less than primary market prices. Buying from resellers also offers an alternative plan in response to price inflations, backorders, discontinued products, and out-of-stock items. Plus, resellers may stock a wider array of brands than your primary vendors. The more SKUs, the more pricing options you have to choose from.
How can you guarantee you get what you pay for when it comes to buying solar equipment from a reseller? We've all heard the phrase, "Buyer beware!" This phrase carries more weight when you buy from an unknown company or make a purchase outside of your traditional supply chain. Risks can be anything from invalidated warranties, counterfeit products, negligence, botched orders, misrepresented specifications, and fraud.
To minimize risk, always, always, always work with reputable resellers! Over the past twenty years, we have pre-qualified more than 20,000 wholesale resellers for our online B2B exchanges, BrokerBin and EnergyBin. In this article, we'll share how to identify a reputable reseller as well as spot signs of foul play.
Definition of "reseller"
In brief, a reseller is a company that purchases services or goods for resale rather than consumption. A reseller may either operate as a wholesaler or retailer. Resellers doing business in the secondary solar market are registered companies or sole proprietorships. Some are authorized or official resellers of specific brands for which manufacturers have granted permission to sell.
Others tend to acquire goods from a variety of supplier relationships, such as manufacturers, other wholesalers, liquidators, auction houses, and even developers, EPCs, and contractors who have excess and second-hand material.
Resellers may have physical store locations, solely work online, or operate a hybrid model. E-commerce expands the buyer market allowing resellers to reach buyers throughout the world.
In addition to their own websites, many resellers choose to join online exchanges, like EnergyBin, and marketplaces, like Amazon, eBay, and Craigslist, to list products for sale. Where they sell depends on the buyer audience they want to reach. For instance, wholesalers tend to join B2B exchanges while retailers join B2C marketplaces.
In many cases, resellers in the solar industry offer value-added services to enhance customer experience. For example, some provide storage space to contractors and drop ship equipment to project worksites. Some offer lines of credit and financing options.
Others buy back excess and used equipment if the material has resale value. Resellers evolve their business models with value-added services to gain competitive advantages and satisfy customer needs.
Tips to verify reputable resellers and minimize buyer risks
With the surge in e-commerce, it's now easier and more efficient to source solar equipment online. Chances are your primary distributors have converted their product catalogs from print to online. In addition, exchanges and marketplaces create a finely tuned buyer experience where buyers can search product availability and pricing at the tips of their fingers.
Expanding your supplier network to include resellers may lead to significant cost savings for your solar company. But there are risks associated with resellers. The good news is, there are steps you can take to identify reputable resellers and minimize risk.
Here are 10 tips to verify a reseller's credibility and ensure you have a positive buying experience.
1. Determine your needs related to product condition and warranty status.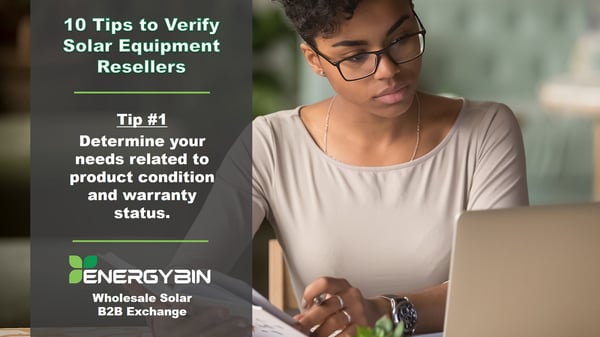 Before you search for resellers, assess your product needs. What are your solar project requirements? What efficiency level do you need? What's the project budget? A qualified solar engineer can help address these questions during the project design process.
In addition, consult your lending partner and insurance company who may have specific parameters you must follow.
Cost varies based on the condition – new versus used. It also differs based on efficiency levels. If you don't need the latest and greatest technology, you could save thousands of dollars by selecting a lower efficiency option. For example, a 350W solar module, which is a high quality, high efficiency module, costs less than a 450W module.
If you require warranty coverage issued by the manufacturer, plan to purchase from an authorized reseller, who should provide a receipt or other documentation.
There may be instances when a manufacturer's warranty is not necessary, for example, if you are building a small off-grid system, or you're replacing a damaged component with an expired warranty. It depends on your individual needs.
2. Use a trusted resale exchange or marketplace that has buyer protections in place.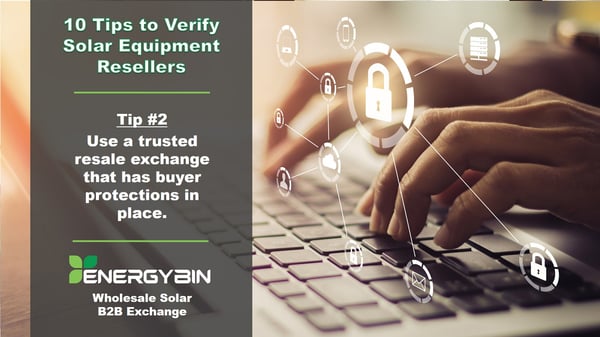 When you connect to a reseller through a third-party exchange or marketplace, you gain another level of security. Trusted exchanges and marketplaces have implemented safe trading platforms to protect buyers and sellers. These third parties take responsibility for creating transparency and moderating issues that arise between participants.
The major difference between an exchange and a marketplace is the type of buyers and sellers it attracts. Most exchanges comprise wholesalers targeting other industry businesses whereas marketplaces tend to be made up of retailers targeting consumers.
If you're a solar company looking to buy wholesale solar equipment, your best option for connecting to reputable resellers is EnergyBin, a wholesale solar B2B exchange. EnergyBin pre-qualifies members to ensure they are registered solar companies and in good business standing. The exchange also checks three references prior to allowing access to new members.
Plus, members must adhere to a strict code of conduct. Solar companies from across the supply chain are members of EnergyBin, including both authorized resellers and unauthorized resellers, manufacturers, distributors, developers, EPCs, installers, and O&M firms.
To further protect buyers, EnergyBin forgoes online payments as a security measure, pushing direct buyer-seller transactions instead. In the event of a discrepancy between a buyer and seller, the EnergyBin Ethics Committee steps in to moderate the situation, working with each party on conflict resolution.
Successful exchanges emulate financial trading by promoting liquidity and transparency, efficient pricing, product information sharing, and effective buyer-seller matches. Participating in a trusted exchange greatly reduces your risk as a buyer.
3. Read the reseller's company profile, website, and customer reviews.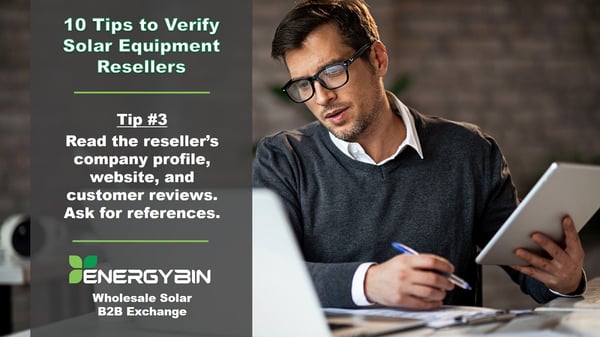 Another benefit of using an exchange or marketplace is the ability to look up a reseller's profile. Company directories are a common feature on such platforms.
If you look up a reseller's profile and find complete fields, a logo, contact information, photos of the individuals, and credentials, terms, and conditions, then you can use the information to pre-qualify the reseller before talking to them. Look for a company name with matching domain email addresses, a website, and a physical address that can be easily mapped as other signs of credibility.
In addition to reading the reseller's company profile, check out their website. Browse the website for policies, credentials, customer testimonials, and other information that validates the company's reputation. If they don't have a website, make a phone call. Be sure to verify the business.
You should also search for customer reviews. Some exchanges and marketplaces allow customers to submit reviews about their experience with the seller. Facebook, Google, and Better Business Bureau are three additional sources you can check. If no reviews are available, ask the reseller to provide references.
4. Inspect the goods before purchasing.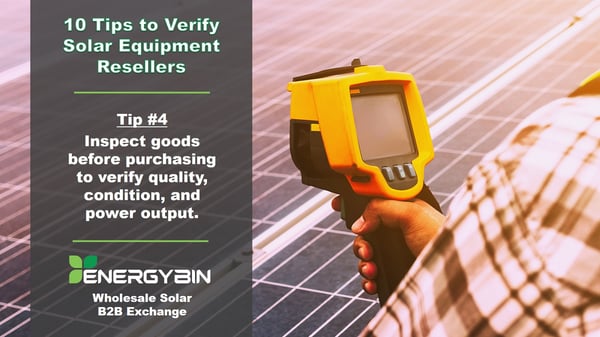 This tip is a safeguard against purchasing counterfeit or stolen goods. Inspecting products before you buy also gives you the opportunity to verify quality, condition, and power output. If possible, meet the seller in person to conduct an inspection. Look for serial numbers, which provide authentication and a way to verify the goods have not been reported stolen.
If you can't inspect the products in person, then request photos with timestamps to prove the photos were taken recently. You could also ask them to photograph the goods with your name and date on a sticky note attached.
Or, you could arrange a proxy to inspect the goods in person on your behalf. Ask the reseller if they are willing to work with a third party to conduct a product inspection and provide inspection documentation.
5. Verify whether the reseller offers a money-back guarantee.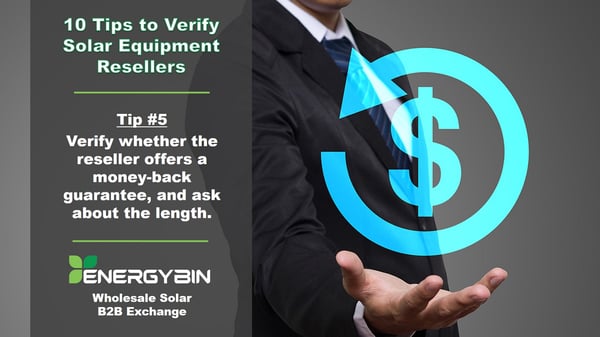 Many reputable resellers offer money-back guarantees to allow the buyer a grace period to thoroughly inspect the goods upon delivery. If anything goes wrong during shipping, or the shipment doesn't match your order, you'll want to contact the seller immediately. Reputable sellers will work with you to remedy the situation.
Pay attention to the time limitation of the guarantee. We tend to see resellers offering a 30-day money-back guarantee, which begins on the date of delivery. After the 30-day window, the guarantee is null and void.
6. If you're buying refurbished solar panels and parts, confirm the reseller offers a service warranty.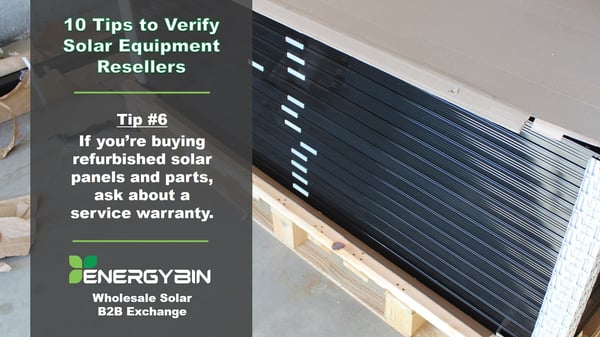 A service warranty for second-hand solar modules and parts is often included by reputable resellers. These companies have a vested interest in guaranteeing their products because one mishap can destroy their reputation.
Although international standards for second-hand solar equipment don't currently exist, many reputable refurbishment firms have established internal company standards. These standards seek to satisfy safety and functionality of equipment as well as a minimum power output. Ask the reseller to share their standards with you.
In addition, inquire about their service warranty. The length of service warranties tends to vary from one to five years, which is common practice in other industries with robust repair sectors.
7. Review the reseller's policies to ensure they align with your expectations.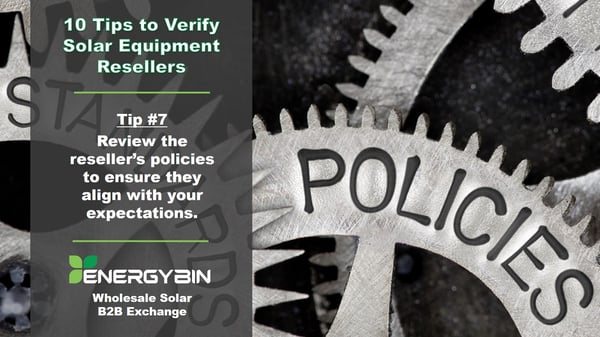 Policies such as payment terms, returns, and replacement for goods damaged or lost during transit should be published on a reseller's website. You should also look out for policies addressing restocking fees, consignment, warehousing, incorrect, unwanted or mis-ordered product, and security interest. If you can't find policies on their website, ask the reseller to provide a document preferably printed on their letterhead as well as signed and dated by the reseller.
To ensure products you buy meet quality standards, corporate social responsibility requirements, environmental considerations, and applicable laws, ask these questions suggested by Solar Energy Industries Association:
Do you follow the SEIA Traceability Protocol? If not, why not?
Do you and your suppliers have a corporate social responsibility code of conduct or policy in place? If so, can you share it?
Does your code of conduct address the areas covered by the International Labor Organization's core labor standards?
Do you communicate your code of conduct to your suppliers?
What steps do you take to ensure that you and your suppliers are in compliance with [region's] laws and regulations?
Can you show where the product is manufactured and where the inputs come from?
Can you provide the most recent independent audit reports regarding your claims?
Who conducted the audit? Was it conducted by a qualified, independent third-party organization?
Are the audits announced or unannounced? How often are audits conducted?
8. Take the conversation offline.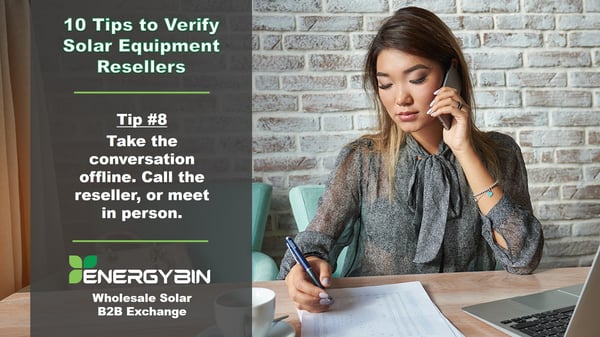 Once you've gathered pertinent information online, have a phone conversation, video conference call, or better yet, an in-person meeting with the reseller. Having a conversation with the seller is your opportunity to listen for red flags. If the reseller makes strange requests, won't answer basic questions, or wants to be paid with gift cards and money orders, then they likely aren't a legitimate company.
A conversation with the reseller also gives you a chance to ask questions you may not feel comfortable discussing online. We all know the complexities of solar projects. Talking one-on-one to a supplier will quickly reveal if they are able to efficiently and effectively meet your needs.
9. Use a secure app or service to make a payment.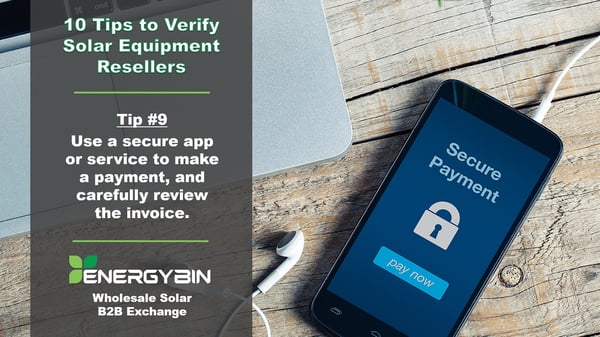 When you're ready to move forward with a purchase, use a secure payment app or service. Some services, like Escrow, will hold your money until you receive the goods. If you don't receive the delivery, your money is returned without any hassle.
We also recommend that you carefully review your invoice prior to making a payment. Compare the contact information to the reseller's Company Profile on a trusted exchange or marketplace. Pay particular attention to the email address verifying that the sender's address in your inbox matches the address in their Company Profile.
If any information doesn't match, contact the company to avoid paying an imposter invoice, which is a scammer who is impersonating the reseller. This crime has nothing to do with the seller. It is a sad reality of the global e-commerce system. Even the world's top brands are impersonated by scammers, including Amazon and PayPal.
10. Report suspicious activity to appropriate authorities.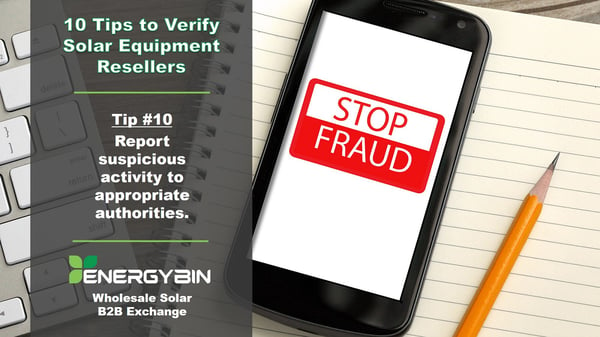 If you come across a scammer posing as a reseller, take steps to report the suspicious behavior. Alert the administration of the exchange or marketplace you're using. Be prepared to share specific details and provide evidence of foul play. Trusted exchanges, like EnergyBin, take measures to weed out potential threats on the front-end, and they have a zero-tolerance policy for fraudulent activity.
Hopefully, you won't fall victim to a scammer. But if you do, file a formal complaint with the Federal Trade Commission (for U.S. residents) or econsumer.gov (for non-U.S. residents). Econsumer.gov is a partnership of more than 40 consumer protection agencies around the world. It's available in these languages: English, Spanish, French, German, Korean, Japanese, Polish, and Turkish.
Connect to a reputable reseller today
The risks associated with resellers shouldn't deter you from working with them as there are many fine companies worth doing business with. In practice, it's a rather quick and easy process to gauge a company's reputation, especially if you follow the tips presented in this article. Expanding your network to include resellers broadens your options for product availability and pricing.
As we stated in the introduction, there is a substantial number of reputable resellers in the secondary solar market. Many of whom we've vetted for EnergyBin membership.
If you're a solar company interested in connecting to reputable resellers, then we invite you to join our community today.
You May Also Like: