Imagine a robust secondary market in the solar industry where solar companies, equipment brokers, resellers & suppliers, recycling & refurbishment firms, insurance agencies and third-party warranty companies come together to buy and sell equipment and services. Their purpose: to join efforts with the primary market to advance solar worldwide, making it accessible and affordable to the masses while striving for minimal waste.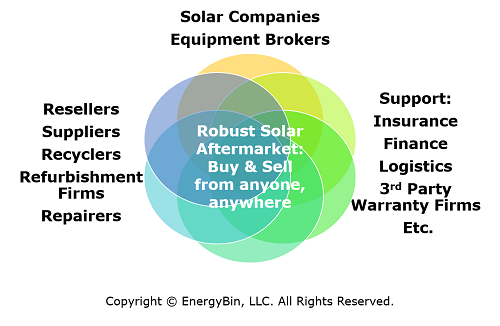 The solar secondary market, also known as the aftermarket, comprises any product that falls outside of the traditional supply chain. Examples of such equipment include surplus, material left over from projects, and product liquidations.
It's hard to put a dollar value on the potential of the secondary market with today's focus on the primary market. Yet, sufficient economic data available today paints a picture of a booming secondary market to come – not decades from now, but rather in the very near future.
Some solar companies have already reaped economic benefits in today's secondary market, as examples in this article show. Examples are presented from the EnergyBin trading community. EnergyBin provides PV professionals with an alternative to buying and selling solar equipment.
In the U.S. solar market, three primary economic drivers contribute to secondary market viability. These factors will play a major role in crafting new opportunities for secondary market players in the future.
(1) Aging Systems
(2) Policy Changes
(3) Market Consolidation
Aging PV Systems
When you think about an aftermarket, your mind may jump to maintenance opportunities that accompany aging systems. From panel cleaning to repair and replacement parts to system updates, aging systems make up a large portion of demand within the secondary market.
To get a sense of the value of O&M opportunities, let's assess the market size in megawatts by looking back in time.
According to the Solar Energy Industries Association (SEIA), U.S. solar capacity of photovoltaic (PV) and concentrating solar power (CSP) in 2009 totaled 2,108 MWdc. SEIA estimates another 40 MW of off-grid capacity was installed.
During 2010, the grid-connected market began to dominate with a record-breaking year of 878 MW of PV installations and 78 MW of CSP installations. The Department of Energy reports that by year-end 2010, off-grid capacity amounted to 440 MW. Add these numbers together, and we get a total capacity of 3,544 MW that is now ten or more years old.
Most of these aging systems are located in the top ten solar states. California accounts for more than half of the aging capacity. There and in other state markets, solar systems incur more maintenance costs than new installations today.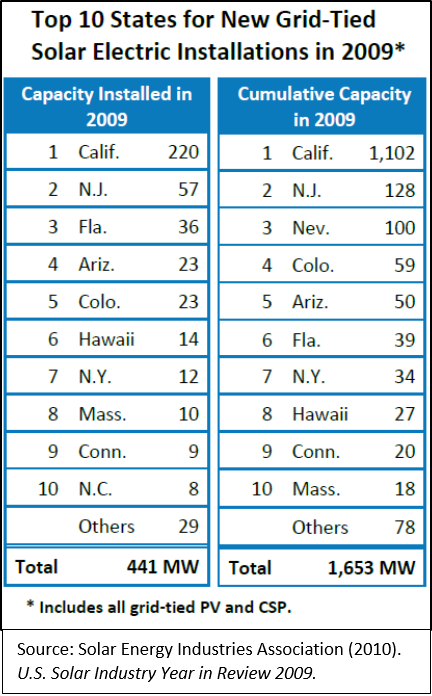 These costs are partly due to advancements in technology over the past decade and partly due to changes in regulations.
As an example, consider how inverter technology has evolved over the years. Ten years ago, installed inverters were expected to have a 10-15 year functional life. Today with the advent of microinverters, that lifespan has nearly doubled.
System owners and investors may find it more economical to replace aging inverters with compatible matches while panels are still performing at favorable efficiency levels. This scenario may well be the best option for the homeowner or small business owner who is not financially ready to upgrade the entire system.
Such was the case with an EnergyBin member, a residential installer, who has roughly 100 ground-mount, grid-tied systems that have been in operation for five years or more. The SolarEdge inverter he selected years ago for his customers is no longer in production. He was able to locate a seller in the EnergyBin trading community who had a pallet of the exact match model. He purchased the pallet to keep these inverters on-hand and meet maintenance needs of his customers with existing arrays over the next 5-10 years.
The secondary market offers a wide array of older models for both panels and inverters available for sale to accommodate O&M specialists' needs. Some 95% of equipment we see for resale on EnergyBin is new, never-been-opened product with warranty. Installers and O&M companies in our network tend to plan for aging systems by keeping stock on-hand that is discontinued. They know the value of meeting their customers' maintenance needs. These happy customers may one day choose to upgrade their systems and may give positive reviews to friends, colleagues and family members.
But some system owners may not have the option to swap out replacement models due to regulation changes that have not grandfathered their systems in. Let's take a look at how the economic factor of policy and regulation changes drives other secondary market opportunities.
Solar Policy Changes
Changes to solar policies may demand a system upgrade take place before the system has fully reached its end-of-life. You might initially view this situation as an unforeseen expense. The secondary market presents you with the opportunity to resell gently used components, such as inverters, panels, racking, mounting and tracking hardware.
Refer back to our example of inverters from the previous section. Electrical code changes in California and New England in recent years require the use of smart inverters to guarantee safety and reliability of the grid system.
Because the secondary market allows you to advertise your products to buyers throughout the world, you are not confined to solar customers in your local area where components may be obsolete for grid-tie projects. Used panels are popular among off-grid consumers and can be used for replacement.
Within the EnergyBin community, a number of equipment resellers test used inverters and panels to guarantee the product is safe and verify amp and voltage performance levels. They reposition the product for sale in the secondary market, which may come with a limited-term service warranty.
In addition to used equipment, you may have new, never-been-opened product in your warehouse that is now considered outdated in your region due to regulation changes. Don't let it sit there collecting dust. Resell it in the secondary market.
When New England changed its code regulations for inverters, an EnergyBin member, who is a regional distributor, collected its name-brand inverters that were noncompliant – Enphase, Fronius and SolarEdge – and listed them for resale on the EnergyBin platform. In a matter of three months, the distributor sold these inverters to buyers located outside of their region. Some of these customers ended up placing new orders with the distributor, who would have never connected to them were it not for the secondary market.
If decommissioned material is truly at its end-of-life, plan to deliver it to a recycler. Some regions in the United States have already passed legislation that requires recycling. In the state of Washington, for example, the law denies sellers the right to sell module brands in the state unless a recycling stewardship plan is filed with the Department of Ecology. California passed a bill in 2015 that designates end-of-life modules as hazardous waste subject to universal waste management protocol.
As other jurisdictions pass similar policies, new opportunities in the secondary market open to recycling companies and scrap materials handlers. Resale and recycling options made possible by the secondary market complete the industry's sustainable cycle to achieve minimal waste.
Market Consolidation
A third economic driver that has propelled the secondary market forward in the U.S. is market consolidation. As solar companies go out-of-business, the market opens to product liquidations for resale through brokers and new customer acquisitions for O&M specialists.
Most people relate large product liquidations with auction houses and bidding, where the highest bidder wins the purchase. But did you know that equipment brokers will also buy equipment from liquidations to resell in the secondary market?
Equipment brokers operate on the philosophy of "buy-low, sell-high." They may secure a large lot at a bulk bargain then turn around and offer the product for sale in smaller quantities. The same practice comes into play with project cancellations where developers and contractors are eager to recoup a portion of their loss. More so, this practice takes place with surplus or project left-overs, where equipment brokers may offer a cash buyout to the owner for such material.
Because brokers are not confined to buyers in one geographic region, they most always can sell new and used PV material somewhere in the world so long as it is something of value. Brokers will buy from each other as well. In the EnergyBin trading community, a number of brokers are trading equipment daily.
In a recent transaction, one EnergyBin broker posted 15 kW worth of 255 Watt black mono panels. He bought the panels from a solar company that had been storing them for years. Within one week of posting the panels for sale on EnergyBin, another broker contacted him to purchase the lot. The second broker most likely had a buyer lined up who could use these panels for an upcoming project.
Market consolidation also opens new opportunities for O&M specialists to acquire new customers. Think of those installers who have closed their doors and left customers with existing systems in need of maintenance. Over their systems' lifespans, they will need panel cleaning, parts replacements and systems updates.
A number of installers have carved out new revenue by adding an O&M component to their business models. According to the National Solar Jobs Census, 41% of installers reported they also work in O&M as their secondary job function. Another 11,200 PV professionals (5% of the U.S. solar job market) report O&M services as their primary specialty.
Installers are wise to offer O&M services as a strategy to generate new and nurture existing customer relationships. They will be the first point-of-contact when a customer needs a maintenance service and when the customer is ready for an upgrade. If a consumer had a negative experience with a solar contractor that has since closed, you have the opportunity to win them over with maintenance services.
The Future of Solar – A Booming Secondary Market
In this article, we've shown how three economic drivers – aging systems, policy changes, and market consolidation – have advanced the U.S. secondary market. What can be expected in the future?
Earlier, we presented total U.S. solar capacity numbers as of 2010. As of Q3-2019, SEIA reported total U.S. capacity of 71.3 GWdc. In the next five years, analysts forecast that solar capacity will more than double with average annual installations of 20.1 GWdc.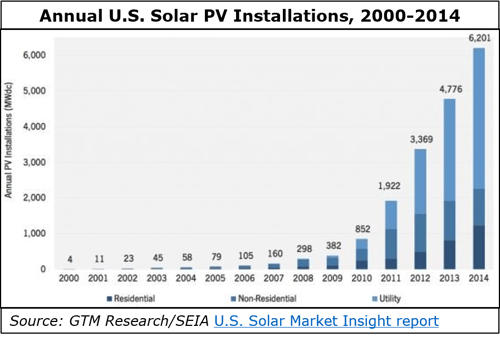 By 2024, more than 1.7 GWdc of solar installed between 2010 and 2014 will be at least ten years mature. The 3,544 MW installed pre-2011 will be at least fifteen years in operation. With these numbers, the industry will see an increase in O&M services particularly in top markets, such as California, Texas, Florida, North Carolina and Nevada.
We also expect to see new policies come into effect as other states follow California and New England requiring smart inverters with rapid shutdown capabilities. We'll see more states put into law mandatory recycling requirements for end-of-life modules. These issues will create new opportunities for refurbished goods resellers and recyclers that prove economical in scale.
With continued market consolidation, equipment purchased in the primary market but never commissioned will once again be made available for sale at reduced cost in the secondary market via product liquidations. The pressure solar companies feel to gain or maintain a competitive edge may result in many of them turning to the secondary market for solutions.
We predict an increase in requests for quotes on trading platforms from installers seeking to verify equipment pricing and availability. We also expect more companies to diversify their revenue portfolios, whether they add an O&M arm to their service offerings or transition into equipment brokering either part- or full-time.
In our experience, we've already seen some solar companies redefine themselves in the secondary market. One EnergyBin member, a residential installer, began reselling equipment left over from projects. In a short time, his resale profits took off. He evolved into a full-time broker specializing in surplus and legacy parts.
Just like other established industries, the future of the solar industry boasts a booming secondary market. And because the U.S. market is rapidly growing, economic opportunities in the secondary market exist today, with more to come in the near future.
You May Also Find Helpful: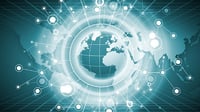 Why the Secondary Market is Good for the Solar Industry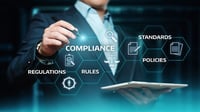 Policy and Incentives Resources for Solar Equipment Brokers