The following article is the transcript from a conversation with Melissa Schmid, marketing communication manager, Rob Van Demmeltraadt, sales manager, and Thomas Hennessey, business development manager at EnergyBin, who share insights about PV module and inverter supply within the secondary solar market as of H2 2022.
Click on the video to view the interview.
Hello. Welcome to this edition of Market Watch brought to you by EnergyBin, the leading B2B exchange for solar equipment resale.
I'm Melissa Schmid, the marketing communication manager at EnergyBin, and I'm joined by my colleagues, Rob Van Demmeltraadt and Thomas Hennessey, who are experts at connecting buyers and sellers of solar hardware. Thanks for being here, guys.
Today, we're discussing PV module and inverter supply within the secondary market, and specifically activity we're observing on the EnergyBin exchange platform.
This is a timely conversation to have in light of inflation, supply chain constraints, and increasing demand for solar that does not seem to be slowing down anytime soon.
Rob and Thomas, you spend your days consulting solar companies to help them buy and sell solar equipment.
1. What are you hearing from solar companies with respect to supply chain constraints and product shortages?
Rob: We're hearing a lot about these issues. When people come to us, they're really coming because there's an absolute need. A product order may be delayed, either on the manufacturer end or due to logistics, and the product is not reaching the customer. So, they're scrambling to save the project. I'm hearing quite a bit of that issue.
Thomas: I'm also witnessing this situation. With respect to supply chain issues, it seems like the ports aren't as congested as they were earlier this year. We're seeing some improvement there. At the same time, demand is still through the roof. I don't believe the demand aspect will change any time soon. A lot of the raw materials, like polysilicon, are still in short supply right now. So, it's hard for manufacturers to keep up with the pent-up demand.
Lately, I've spoken to many companies that have placed orders with manufacturers, or they want to place orders, but they're looking at delivery dates that are at least six months out. They need equipment on a quick turn-around. EnergyBin is great in these types of situations. These supply issues and product shortages are going to persist until we reach some kind of equilibrium. In the meantime, there are still many companies that are falling short of their projections.
Melissa: Although the global solar industry is striving for equilibrium, demand keeps growing. Even with announcements, like the Inflation Reduction Act in the U.S. market and subsequent manufacturers announcing gigawatt capacity facilities to come online beginning in 2023-2024, there will still be a gap between supply and demand.
Another example of skewed demand is what's happening in the European market with the overwhelming energy shortages and many looking for ways to move away from fossil fuels to renewable energy. These are just two markets in the world that are moving at very rapid paces to make this clean energy transition.
2. What's hot right now? What specific products are wholesale buyers looking for today?
Thomas: I think everything's hot right now. In particular, inverters are very hot. We're seeing many EnergyBin members selling various brands – for example, SolarEdge, SMA, Enphase, and Fronius inverters. At the same time, we have many companies that are looking to source these brands. If you have excess inverters, now is a great time to be sending your Want-to-Sell broadcasts. Also, we're happy to help with the leg-work of posting your inventory on the EnergyBin platform.
Of course, modules are also hot – new and used modules. Used modules are trending lately. I've received a lot of inquiries from companies looking to source secondhand modules, and many buyers are looking for large volumes. The overall percentage of used equipment on EnergyBin is increasing.
For sellers, if you get wind of any decommissioning projects in the pipeline, let us know. We can help connect you to companies that are actively looking for secondhand equipment right now.
Rob: That's absolutely right. I want to roll it back for just a minute. Market conditions were mentioned, and I want to elaborate on that. The global demand for solar is only going to go up. Melissa mentioned Europe where there's a huge need for power. We're hearing about hurricanes causing massive damage in the Caribbean. There are rolling outages in California. Again, there is such a huge demand and that's not going away.
Now about used equipment, that's an interesting subject because used material presents a huge opportunity. Panels have a 40- to 50-year lifespan, yet many companies after 10 to 20 years choose to repower. Rather than considering the remaining life of the decommissioned panels, companies simply dispose of them. There's an opportunity to resell panels, as well as used batteries, and so on. As Thomas said, contact us, and we'll help connect you to the right partners who want them.
Melissa: On EnergyBin, used equipment listings represent 5-10% and new is 90-95% of the total millions of listings. That percentage distribution is changing. We see panels sometimes as young as 6 months, 1 year, or 3 years old.
In fact, it's very common in the residential sector for homeowners to upgrade their technology within 5 to 10 years, usually due to a higher level of electrical generation needed as consumption increases. Maybe you bought that electric vehicle, and now you need more power, which leads you to upgrade your solar system. Those panels that are 5-10 years old don't need to go to a recycling facility. They can be resold in the secondary market.
3. What's trending in the used PV hardware market?
Rob: The highest demand is for used panels. They tend to move very quickly. There are many applications for used panels that are economical and effective, for example, off-grid and agricultural applications. There exists a huge market throughout the world.
Additionally, a unique market exists for the operations and maintenance sector with respect to used equipment. What I mean by that is of all the arrays in operation today, many are reaching or beyond 10 years in age. However, problems arise that need ongoing trouble-shooting. For example, in the upper Midwest, we get blizzards, tornados, and hail. All kinds of issues come about that require locating replacement parts for. If a replacement part can't be found, the operator is sometimes forced to upgrade the entire array.
Inverters, for example, will likely need replacement over the system's lifespan. If an inverter is under warranty, the manufacturer may be scrambling to find it, especially if the model has been discontinued. It'd be like trying to buy a brand new 2015 Ford truck in 2022. So, we see a lot of O&M companies looking for replacements. They prefer new, but used equipment can work for these applications as well.
Thomas: Especially with inverters, companies that began installing 10+ years ago have inverters that are reaching end-of-life. They need replacements, but they're not able to find replacements. In these cases, you can leverage EnergyBin to find replacements.
Regarding modules, used modules are always hot. We have several companies looking for used modules in the range of 150 to 350 watts.
Melissa: I would add to opportunities in the used market by mentioning value-added services, such as testing, appraisals, and third-party warranties. Many PV system owners are wondering what their equipment is worth, which is where appraisals come into play. Companies, like our members SOLARCYCLE and Ontility, are investing in recycling as well as remanufacturing, which entails collecting decommissioned panels, sorting them into two piles – resell or recycle. Those that are deemed for resale get the full works in terms of repair, testing, cleaning, a stamp of guarantee via a service warranty, and repackaging for resale to buyers all over the world.
Rob: There are companies that don't just dust off the old stuff. They go ahead and remanufacture and repair used modules and used inverters that then can be reused in this industry. They are in the business of extending product lifespans. These opportunities exist today.
Thomas: As far as the value-added services go, testing is so important. The companies I see having the most success selling used equipment are testing everything that they sell in order to guarantee the power production at a certain level.
4. What tips do you have for sellers when listing their inventory on EnergyBin?
Thomas: For companies that are selling on EnergyBin, I always keep my message consistent. If you're willing to do what we suggest by posting your inventory and sending Want-to-Sell broadcasts regularly, you will have success, and you will connect to new buyers. I really think it's that simple. The companies I see selling this way are those seeing the most success on EnergyBin.
I'll share a recent success story – The Megawatt Group, who was just named as a Top 10 Renewable Energy Services company by Energy Tech Review Magazine, recently sold 500 modules to another EnergyBin member. This seller does well to send broadcasts and post their inventory on a regular basis. The buyer saw their post and reached out to them.
Rob: The one adage that comes to me is printed on a sign I keep at my desk, which is, "Only you can make it happen." What I'm getting at is you have to put yourself out there.
One of the concerns we hear from people is they don't get any results from a part search. But what we're encouraging is that you need to let members know what it is you're looking for. When you send out a request, you're reaching hundreds upon hundreds of EnergyBin members. They all have different business models, and they have gear. Many have excess gear sitting in their warehouses or yards that they want to off-load. By sending a broadcast, you're inviting them to connect.
As companies tell us what their problems are, and we have them reach out to the EnergyBin community, they tend to resolve their problems. A good example is Meraki, a residential installer operating in southeastern United States. I met the owner about three months ago. Like many companies, he was experiencing supply chain delays. He needs about two megawatts worth of panels per month to keep his projects going. He sent a broadcast and realized success right away.
I'll share about two success stories involving used equipment. The first is a company based in Canada, Apex Trades & Export, who has a client in South America that needs used modules. We advised him to send a broadcast, and he found two containers nearly instantly.
Again, if you don't take an action on your end, nothing will happen on the other end. Think about what you can and can't control. You can't control supply chain delays. What you can control is where you can find solutions to your problems. That's where EnergyBin helps.
The second success story regarding used panels involved a large EPC based in California, RENVU, who was working with a utility-scale client to upgrade technology of an existing array that amounted to a degraded power of 50 megawatts. These 180,000 panels were 8-10 years old. By putting out a broadcast, RENVU received three offers to buy all within less than a week. The final sale amounted more than they asked for in the list price.
If you think about the cost of disposal or recycling, that's a hard cost. Turning what would cost a huge sum into a significant profit gain allows you to offset any recycling cost, and in this example, the seller was able to offset the new-build cost.
Melissa: Those are excellent success stories of how companies are uploading their inventory on EnergyBin and reaching out through Want-to-Sell broadcasts.
5. Would you show us what a broadcast looks like?
Rob: Here's what our Broadcast Table looks like.
When Thomas and I talk about putting your need out there, this is what we're referring to. For example, 1Solar sent a broadcast last week. He's looking to move 20,000 VSUN 400-watt panels.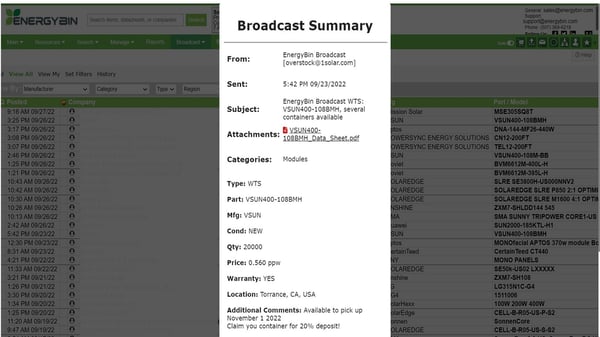 Here's Meraki, the company I mentioned previously. He's looking to buy 5,000 Aptos 370-watt panels for his next series of jobs.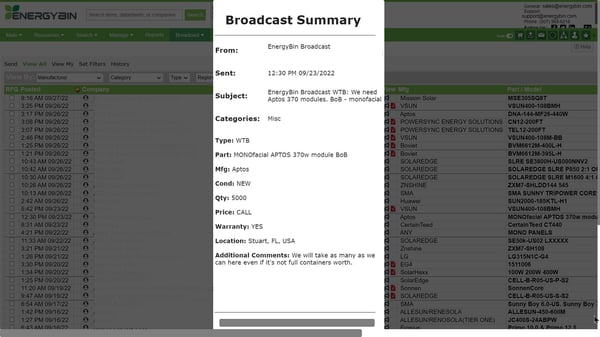 This is what we encourage you to do because once you put your broadcast out, it gets sent to all EnergyBin members. We're talking about expanding your supply chain options. We aren't going to replace your current suppliers. Rather, we want to help you build new relationships. We want to help you solve some of your problems. Yes, we're connection experts, and we're also problem-solvers. But it all starts with putting out that broadcast, so others can see it.
Melissa: That's a great visual aid, Rob. Thanks for showing that, and thanks for pointing out Meraki again. They are doing what we hope all solar companies would discover - the opportunity to enter into solar equipment brokering. Meraki is an installer. Yet, they order in bulk and sometimes have excess, or maybe a project gets downsized or cancelled altogether. They then can take that excess material and resell it on EnergyBin. They have recently been doing this with inverters. Now, they're also finding value in requesting quotes for material they're in the market to buy. It's really powerful that they can come to EnergyBin and get what they need right away.
Any distributor or supplier can also send out Want-to-Buy broadcasts and act as a broker – a buying agent – for their primary customers. We've already seen companies, like CED Greentech and BayWa r.e., do this from time to time because their primary vendors are sold out of what they need. The part could be back-logged or discontinued. EnergyBin offers an alternative solution for them to find what they need to make a customer happy and to keep their customers' project timelines going.
For our purposes, we define solar equipment brokering as the buying and selling of solar equipment. All of you as wholesale companies, whether you identify as a buyer or a seller, can be both because you all have customers.
Rob: That's an interesting point. Every one of the examples we've given are companies who have their own customers, as those of you watching have. You've built good relationships with your customers. And of course, no one wants to lose their customers. EnergyBin gives you an opportunity to find hardware and solve the problems of your customers.
Additionally, by using EnergyBin - by posting inventory and sending broadcasts - you're technically expanding your downline. If you think about that residential installer or the distributor, each has their own customer base. By working with them, you're expanding your sales and sourcing channels as well.
Brokering is such a pronounced opportunity. You'll not only build a relationship with new contacts, but you'll also end up doing more business in the long-run.
Melissa: Wrapping it up, I want to thank you, Rob and Thomas, for your insights and keeping us up-to-date with secondary market trends.
For our viewers, if you'd like to chat one-on-one with Rob or Thomas about your solar hardware buy / sell needs, reach out to us at EnergyBin.com.
Also, subscribe to our YouTube channel to get more tips for buying and selling wholesale solar equipment.
From the entire EnergyBin team, we wish you success in your work to advance solar energy. Thank you for all you do, and thanks for watching.
More Resources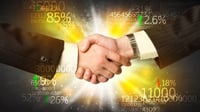 A Comprehensive Guide to Wholesale Solar Equipment Brokering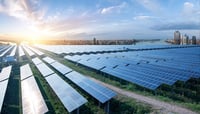 The Ultimate Guide to Buying Wholesale Solar Equipment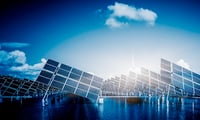 The Ultimate Guide to Selling Wholesale Solar Equipment