This resource is meant for solar equipment brokers and PV hardware companies that are buying and selling secondhand solar panels. The inspection and testing practices highlighted herein are suggestions to minimize your risk as well as strengthen your credibility as a reputable reseller.
Buyers can also glean valuable information from this resource. Used solar panels offer significant savings between 50-75% less than new modules. However, several factors must be considered when purchasing used to guarantee you're getting a quality product that's safe and producing power at levels that meet your expectations. Inspection and testing practices provide this information.
Currently, there is no international regulation or certification program for the reuse of secondhand modules. However, many resellers voluntarily provide documentation detailing inspections and testing. On EnergyBin, resellers often attach these details to their product listings.
Why inspect and test?
Although it's not required by law to provide inspection and testing of used solar panels, doing so makes good business sense. Reputable resellers who verify testing results of secondhand modules strengthen credibility among buyers. Cognizant buyers who are in the market for used panels will gravitate toward sellers who've guaranteed quality, performance, and safety of the equipment they're selling.
Think of it from the standpoint of buying a home. The home inspection is voluntary and usually occurs at the expense of the prospective buyer. A buyer opts for an inspection to avoid the risk of paying more than the asset's worth as well as to reveal any defects the seller failed to mention.
The secondary solar market is similar to the home market in that resellers acting as buyers want as much guarantee that the equipment you're sourcing is as worthwhile as possible. The party responsible for the cost of inspection and testing is negotiable – either the asset owner or the reseller may pay. And depending on the lot size, a sample of 15-50 modules are tested.
Why inspect and test? Because inspecting and testing used solar panels before you buy will greatly affect your success to resell them. You also want to insure you're sourcing modules that will reap the best resale value.
First: Examine the label
Your first step to take when inspecting used solar panels you're considering buying is to check the condition of the label, which will either be applied to the front or back side of the module. Ask the seller to send a photo of the module's front and back sides.
The label is important for three reasons. It shows the product serial number. It displays the model number. And it provides electrical data. These data points are what the manufacturer has guaranteed over the course of the performance warranty, usually 20-25 years.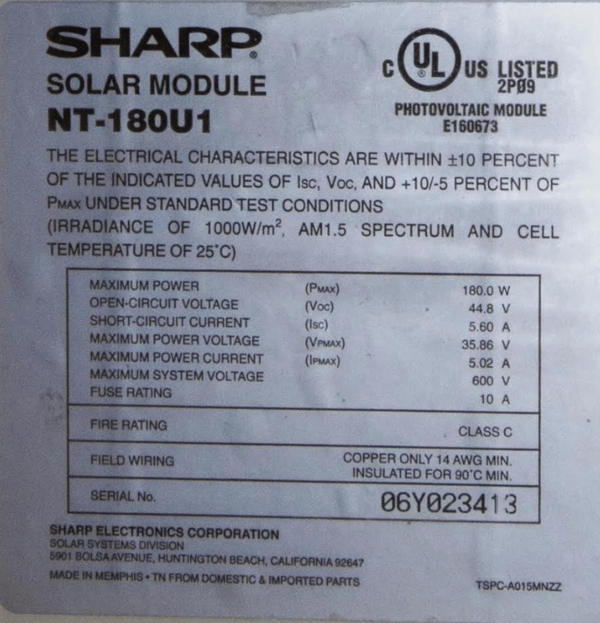 The model number is useful for locating the manufacturer's datasheet online. The datasheet lists product certifications, I-V curves, electrical data, mechanical data, and temperature characteristics. A repository of datasheets is available on the EnergyBin exchange.
Pay attention to the certificates. As a reseller, you are required to adhere to electrical code standards in the regions where your buyers are located. If you have any uncertainty about the authentication of a certificate, verify it with the appropriate independent testing agency, for example, via TÜV Rheinland's Certipedia.
Next: Inspect the modules
You have two options for inspection – conduct an in-person assessment or request documentation from the project owner.
In-Person Assessment
For in-person assessments, plan a visit to the location where the solar panels are installed. Choose a sunny, clear day around noon. Verify that modules will be cleaned prior to your arrival. If you're unable to go, send a proxy.
Come with your hand-held multimeter, solar charge controller, and watt meter.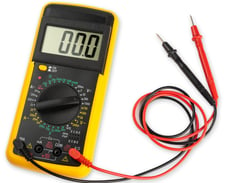 These devices will give accurate readings on module performance for open circuit voltage (VOC), short circuit current (ISC), and operating current, especially if you test under optimal conditions (clear, sunny day and clean panels). Compare these readings to the electrical data on the module label.
As you examine the lot, or a sample size for larger lots, look for glue marks, scratches, snail trails, burn marks, hotspots, cracked glass, cracked backsheets, or any other defects. If the glass is cracked, the modules should be recycled rather than resold.
Request Documentation
For modules that have already been decommissioned or if an on-site inspection is not possible, request the project owner to send a performance report from an independent certified testing company.
Moreover, ask the project owner to provide documentation on the following:
Module technology

Exact quantity

Condition – noting any damage to the:

Glass

Cables and connectors

Lamination

Backsheets

Hotspots and snail trails

Age of the panels

Number of busbars

Number of cells

Labeled wattage

Performance measurements:

VOC

ISC

Operating current

Packing condition

Weight per pallet
All of these factors, along with the location of your buyers, will serve in calculating your resale price. Additionally, these details, performance measurements, and visual inspection will aid you in price negotiations should you decide to move forward with purchasing the lot.
If you proceed with buying the modules, prepare your inspection findings in a document to include with the resale listing.
Note that some sellers list their lots under the condition of "As Is Where Is." This means that buyers are purchasing lots in whatever condition they presently exist and are accepting all faults, whether or not apparent. Such a scenario is common on auction sites.
Independent certified testing companies
In some cases, you may decide that your in-person inspection merits further testing beyond what a multimeter can measure. Or, you may not be able to conduct an onsite inspection and would like a third party to test a sample of the modules you're considering purchasing.
If you suspect any of the following conditions - encapsulant browning, hot spots, milky pattern, delamination and bubble formation in the encapsulant, backsheet polymer cracks, junction box connections corrosion, busbar, front grid and anti-reflection coating corrosion and discoloration, and junction cables insulation degradation – the modules are likely degrading at a faster pace than the average degradation rate of ≤1% per year.
For these conditions, consider working with an independent certified testing company. Notable companies include:
Independent certified testing companies utilize technologically advanced equipment to conduct flash tests, degradation control tests, wet leakage tests, and a number of other specialized tests on a sample of modules (usually 10-50 pieces). These tests are critical to determining module safety.
Flash Test
A flash test uses Standard Testing Conditions (STC) to expose the module to a short, bright flash of light from a xenon filled arc lamp. A computer records the following data:
VOC – open circuit voltage

VMP – voltage at maximum power point (using a highly accurate voltmeter)

ISC – short circuit current

IMP – current at maximum power point

Pm – Maximum power and maximum power point

FF (%) – Fill Factor
The collected data is then compared to a reference solar module listed in a computer database. The reference module has a calibrated output of a standard solar irradiation. The results of the flash test are compared to the specifications on the PV module datasheet.
Degradation Control Test
A degradation control test can be conducted either in a laboratory or in the field. This test is particularly useful for installed modules that have been exposed to natural elements for ten years or more.
Degradation of PV modules is highly dependent on the climate, lamination materials, solar module processing, aggressive environmental parameters, PV technology, period of exposition, the installation method, solar tracking system, solar radiation concentration mechanism, and PV system voltage.
Some studies employ electroluminescence (EL) and infrared (IR) imagery in the field. For example, PVEL offers a field service solution that includes a visual inspection and EL imaging to look for a correlation to power loss.
Laboratory studies on PV module degradation carried out over the last 40 years show that the mean power degradation rate depends on the number of years of operation, encapsulant, climate, and assembly type. Results from these studies show a range in degradation rate for c-Si modules of 0.5 to 1.9% per year.
Wet Leakage Test
A wet leakage test evaluates a module's insulation against penetration of moisture under wet environmental conditions. If leakage occurs, corrosion, ground fault, and electrical shock may result. This test is one of the main qualifying tests for IEC 61215. A testing company may recommend this test if cracks or corrosion are found.
Should you decide to go forward with an independent testing company, you will be given a copy of the inspection and testing report. This report can be used as a confirmation that the modules have been tested and are safe for reuse.
Remanufacturing and testing
For modules that are in need of new junction boxes, cables, connectors, etc., you may want to first refurbish them prior to sending them for testing. Refer to the manufacturer's datasheet for mechanical specifications.
Note that modules with IEC 61215 and 61730 certificates have been flash tested as well as tested for wet leakage. IEC 61215 is an accelerated stress test sequence that determines the electrical and thermal characteristics of a module in order to show that it is capable of withstanding prolonged exposure in a described climate.
IEC 61730 (UL 61730 for the North American market) is the global safety qualification that (1) details the construction and component requirements for individual applications, and (2) provides safety testing requirements to verify which materials are being used, how they are integrated into the PV module specific design, and how the design is produced into a finished module.
However, if you remanufacture a module with any component that differs from those listed on the datasheet – e.g. an alternative connector or junction box – you may need to send the module for recertification. Consult parts 1 and 2 of IEC 61730.
Beyond providing testing and certificate documentation, you may want to include a warranty for the value-added service you performed on the modules. On EnergyBin, refurbished module resellers typically include service warranties ranging from 1-5 years.
The future of solar panel reuse certification
Although no commonly accepted certification currently exists, the industry is taking steps to standardize PV module reuse.
Sustainable Electronics Recycling International (SERI) is working on new solar requirements for the R2 Standard. These requirements will include both reuse and recycling. The final revision is expected to be released by Q3 2023 followed by an 18-month transition period for R2 Certified facilities to add the solar panel processes to their active R2 certification.
This resource will be updated to include the R2 Standard when the final version is released.
More Resources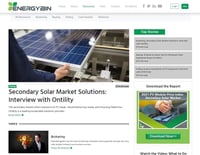 Access articles, webinars, reports, and case studies about the secondary solar market.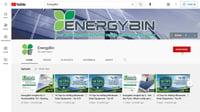 Subscribe to our YouTube Channel to get tips and resources for buying and selling wholesale solar equipment.