Most solar companies I have met are intently focused on making our world a cleaner planet. The commitment to environmental sustainability is what motivates many of us to get out of bed in the morning and hit the ground running at work. We thrive in an industry that shares this common goal, and we get to witness first-hand when municipalities, utilities, commercial businesses, farmers, homeowners and others join us in this goal by investing in solar arrays.
Yet, running a solar company requires astute attention to financial responsibility as well. We have to do what we can to not only keep our doors open, but also pay employees competitive wages, withstand market volatility and make a profit at the end of the day.
As much as you may want your company to stand out in the competitive marketplace, setting your business apart from the competition is a daunting task. For instance, you may not have resources to advertise regularly in trade publications or sell solar door-to-door. These customer acquisition tactics can be cost-prohibitive and distract you from your primary focus – providing solar.
Strategy: Corporate Social Responsibility
Other ways to gain competitive advantage exist and increase profit margins. One popular strategy that is commended in the field of business is that of corporate social responsibility. Note that you don't have to be a corporation to adopt this tried and true approach!
In the article, Corporate Social Responsibility as a strategy to advance business goals, published in the Winter issue of enerG Magazine, I provide an overview of the CSR concept and how the strategy can directly align with your business goals and positively affect your bottom line.
An example of how my company, EnergyBin, is collaborating with The Solar Foundation in support of the Solar Saves Lives program is given to illustrate CSR in practical use. This smart partnership is one way to create value for both organizations and society simultaneously. If you are interested in further exploring CSR partnerships, I recommend the McKinsey article, Making the most of corporate social responsibility.
Is CSR right for your company?
I believe CSR is absolutely necessary to increase your business value. Find ways to incorporate CSR into your strategic planning process. Reflect on who you are as a company and what your stakeholders expect of the company. Then build CSR activities into your organizational culture based on your unique identity.
The enerG article concludes with a list of basic questions to think about when adopting CSR into your business operations. You may also find the GreenBiz article, 7 steps to developing a profitable CSR strategy a useful resource as well.
Incorporating CSR into your solar company not only sets you apart from your competition but also creates goodwill among your customers, employees and society as well. In the end, successful implementation of CSR initiatives leads to a positive bottom line and a sustainable business model.
You May Also Like: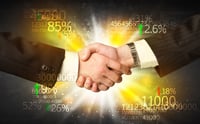 A Comprehensive Guide to Wholesale Solar Equipment Brokering
Learn about solar equipment brokering best practices to strengthen your competitive advantage.